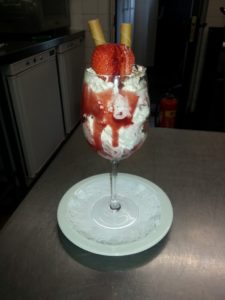 Naughty summer dessert anyone?
Some desserts are classics for a reason, and Eton Mess is one such pud. Quick and easy to make, it's a surefire winner on a hot sunny day; even more so during the Wimbledon fortnight.
This dessert is as the name suggests, a mess. There is no exact science when it comes to creating a mess, (some in fact would count it as a gift) but here's one way of making it elegant.
Start with a large wine glass – our large polycarbonate wine glass is perfect.
Whip us some double or whipping cream until the mixture is stiff. Crush one standard meringue in to the cream and fold the two ingredients together. Quarter 4-6 strawberries and throw them in the mix too. Finally. add a healthy squirt of strawberry sauce, and gently fold the mixture again.
Carefully spoon the mess into your wine glass, and top with strawberry slices to garnish.
Job done! These desserts can be pre-made and stored in the fridge ready for service. Your local EHO officer should approve too as our polycarbonate glasses are perfectly safe in a kitchen environment (unlike glass)
Why not consider serving these in disposable glasses? This dessert would look great in a 2-piece plastic cocktail glass too!