Plastic Champagne Glasses
A few years ago if you wanted to give away a glass of champagne or Prosecco at an outdoor wedding reception but weren't allowed to use glass flutes, you were left having to use a nondescript plastic glass that was also used for beer and soft drinks.

Today the selection of plastic champagne flutes has grown quite large, below we have outlined the various options available to you along with their advantages and disadvantages to help you decide which plastic champagne glasses are right for you.

Cater For You stocks both straight and fluted champagne glasses, all perfect for that summer celebration, outdoor wedding reception or just around the pool on a hot summers day.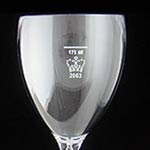 Do I need a CE Stamp on my Champagne Flutes?
Unlike most other alcoholic beverages Champagne & Prosecco is sold by the glass as opposed to a measure due to its lively nature, you will find that most plastic champagne glasses are not't CE stamped for this exact reason. Although not a legal requirement, we are able to offer a reusable glass that is lined and CE stamped at 125ml, should you require it or wish to serve a small glass of wine in a flute rather than a traditional wine glass.
Plastic Champagne Flutes Compared
Below is a photo of the range of plastic champagne flutes available as at October 2016. We do change the range occasionaly when a product is no longer available or a better option is manufactured.
Champagne Range