|
Plastic Juice Bottles
Our attractive range of clear food grade PET plastic juice bottles are suitable for a range of products including fruit juices, yoghurts, mineral waters, milkshakes and smoothies. All the juice bottles come with a screw on cap which is tamper evident and can be screwed on by hand. The lid can only be taken off by firstly removing the bottom tab.

Please note: These plastic juice/smoothie bottles are only suitable for cold fill (not hot fill).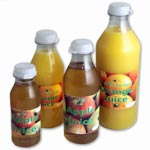 We Print Juice Bottle Labels
At Cater For You we are able to print short runs of labels ideal for putting on our juice bottles. Below we have a couple of generic designs however we are able to produce bespoke labels to include your company name, logo, description, ingredients ect. Please contact us for more details.
Please select next action