Disposable Coffee Cups and Lids
We offer a range of paper coffee cups / hot drink cups ideal for coffee houses and cafes. In a range of sizes from 4 to 16oz and in two stylish designs including an insulated weave-wrap design to keep hands from being burnt. We also offer the domed sip-thru lids to fit the 8, 12 and 16oz cups as well as the insulating sleeves for the single walled cups.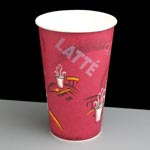 Wide Range of Hot Drinks Cups
Available in several different styles and finishes, we stock single walled disposable coffee cups, a double walled disposable cup and an insulated weave wrap rustic cup. There are matching sip through lids for all sizes too. All styles are great for both hot and cold drinks, look great in Café's, delis and Bistros, and save on washing up too.

Rustic weave cups are great for hot drinks, as you don't need a cardboard sleeve when using them. Constructed from a weave wrap food grade material, Rustic cups are the best choice for protecting hands and keeping your drinks warm. Sizes range from 4-16oz, and all have matching lids. The range includes the 4oz Espresso paper coffee cups.
For several years we have been stocking a full range of white Ingeo biodegradable paper coffee cups with biodegradable lids, made from PLA they are compostable in commercial facilities.

Also Available - Polystyrene Cups
Need, Sugar Sachets, Teaspoons, Stirrers, Cup Trays or Clutches?
We also stock a good selection of sundries for use in cafes and coffee stops along side our paper cups, to view these
Hot Drink Sundries
please click here or on the images below.