|
Banqueting Roll & Table Covers
The economical solution to table coverings for catering events and available in a range of colours.

All of our banquet rolls are made from 100% recycled material.
Customer Banquet Roll Experience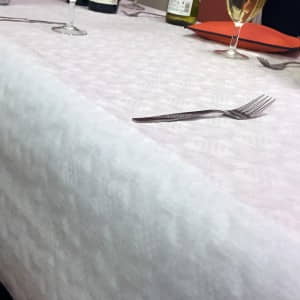 We were recently asked by
Amersham and Chalfont Hockey Club if we could supply a few items to a 'restaurant evening' they were holding to raise funds for their club.
The high class event was held in a traditional local village hall with the standard issue collapsible trestle tables and accompanying chairs.  To help with the presentation, Cater For You was asked to provide some high quality catering disposables to make the dining experience a more pleasant experience.  The two items we were able to supply were the
white banquet roll and the
Duni 2 ply white napkins.
With the trestle tables put together, the banquet roll was easily rolled out across them and cut off at the end.  As can be seen, there was plenty of overlap either side as the width of the roll is 1.14m.  The embossed design also gives the impression of being thicker and higher quality, though it is a cost effective disposable item and the odd tear was evident later in the evening (the slate plates were apparently the culprit).
One of the organisers commented on our donation saying "the banquet roll was a great help as it covered up the trestle tables and made the dining experience more pleasant.  As time was at a premium for us, it was a blessing that the roll was easy to lay out, cut off and at the end of the evening, we were able to wrap it all up and put it straight into the recycling bin outside, saving us having to wash and clean traditional fabric coverings."
Please select next action