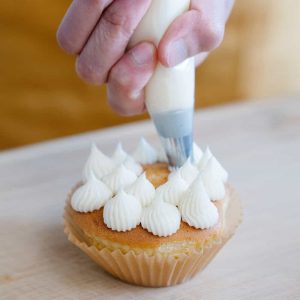 Cupcakes are designed to stand out and grab your attention. This means that when you're decorating cupcakes, you can be as creative and artistic as you like with the toppings – more is more! It's huge fun. Plus, channelling all your energy into intricate decoration can be very therapeutic.
But professional cupcakes can look intimidating with all their perfect peaks and fancy sugar-spun decorations — what can you create at home? Take a look at the Instagrammable cupcake decorating ideas below which are easy to make but go way beyond a glacé cherry…
Easy Cupcake Decorating Ideas
Buttercream Roses
A buttercream rose makes a very elegant decoration. Simply use a piping bag with a flower decorating tip to pipe a spiral from the centre of the cupcake to the outer perimeter. Once you've circled around the top of the cake from the middle outwards you'll have a beautiful rose design. You can make a dozen in different shades of pink and group them together as a 'bouquet' display, adding some green iced cupcakes around the edge for 'foliage'.
Watercolour Inspired Cupcake
Little works of modern art, these cupcakes are made to look like paint palettes — a fabulous abstract cupcake design for an art lover. And it's just so easy. Just colour three or more icing bowls in different 'paint' colours. Then using a palette knife wipe small daubs of frosted 'paint' across each cupcake, alternating the colours as you go. The heavily textured effect adds to the eye-catching design.
Fondant Icing
Fondant icing gives you the opportunity to get creative by cutting, shaping and modelling. If you'd like to focus solely on the design then you can buy ready-made coloured fondant icing from a supermarket. A smooth fondant icing topper on a fairy cake or cupcake provides a blank canvas to add sugar paste embellishments. Fondant icing cupcakes have a much neater look compared to buttercream, so they're often used for more formal occasions.
Sprinkle Dipped 
This is a quick and easy way to make a cupcake look professionally finished. Instead of shaking the sprinkles over the top of the cupcake with sprinkles going everywhere, this decorating hack offers a sleeker look. Pour the sprinkles into a bowl and then immediately after you have frosted your cupcake dip the cupcake in the sprinkles, slowly turning the cupcake around so that you get even coverage. 
Chocolate Decorations 
Melted and then set chocolate designs like shards and fancy squiggles provide height and dimension and look really impressive, but actually, they're super easy to make. Simply draw or trace a basic shape onto some parchment/baking paper. Keep the designs as easy as possible bearing in mind that you'll be going over them in melted chocolate. Consider shapes like hearts, numbers and letters. Then using a piping bag loaded up with some melted chocolate, carefully trace over the designs. Put the designs in the fridge to set and they'll be ready to use when cooled and set. 
Fruit and Berries
Fruit on top of cupcakes provides a fresh, bright patisserie look to the cakes. For berries consider raspberries, strawberries, cherries and blackberries. Blueberries can also look really striking next to raspberries and strawberries. And you can add a mint leaf or two to pull in some green. Red velvet cupcakes look particularly fabulous topped with decadent strawberries to match (ideal for Valentine's day). You don't have to just stick to berries, there are other fruit toppings, but be mindful of the size of the fruit. You don't want to overload the cupcake. Ideas include slices of peach, chinese lantern fruit (physalis), dried banana chips, kiwi, grapes and sliced fresh figs. Top tip: don't place the fruit on until the last minute or the fruit and the icing will go sticky and mushy!
Animals
Animal cupcakes are particularly fun when you are baking with children. Check out these ideas:
Zebras — to create a zebra's long face, cut a slit in the top of the cupcake and insert a vanilla wafer.
Tigers — use an icing gel pen for the stripes.
Penguins — use white icing to paint a cashew shape onto an Oreo cookie to make a penguin (front view of the penguin). Add a candied orange slice to the icing for the beak and tiny blobs of black gel icing for the eyes.
Lions — use caramel popcorn around the edge of the cupcake to create a lion's mane with cheerios for ears!
Monkeys — cover the whole cupcake with rich chocolatey icing and then mix chocolate icing with vanilla icing to create a lighter brown colour for the mouth face.
If you haven't tried any cupcake decorating before, we hope that we've inspired you to get started. There are so many impressive-looking cupcake decorations which are actually really easy to make. With no set rules, you can create your own designs and come up with your own ideas. If you're gifting your finished cupcake designs, use a cupcake box for a professional look. And don't forget to take photos of your cupcakes to document the decorations before they're eaten!