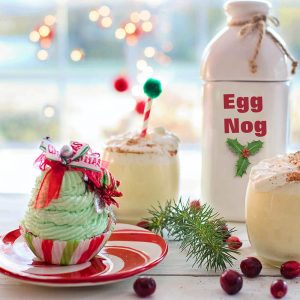 Christmas is a time for indulging and celebrating and so cupcakes are ever-popular (particularly for those who aren't so keen on traditional Christmas pudding). A large part of the fun of a cupcake is the design and the opportunity to get creative. There are so many Christmas-themed cupcake ideas out there that you might not have thought of. Take a look at the Instagrammable ideas below which are easy to make but go way beyond a sprig of holly…
1. 3D Christmas Tree Toppers
The 3D aspect of these Christmas cupcakes creates the wow factor! Simply cover an ice cream cone with green icing using a number 30 piping tip to pipe star-shaped dollops from the bottom of the cone to the top. Then dust with icing sugar 'snow'.
2. Winter Cone Cupcakes
These cupcakes are baked in an ice cream cone! Decorate with frosting to look like ice cream and top with winter berries. Stunning!
3. Christmas Wreath Cupcakes
Simply pipe the icing on top of the cupcake to create a circular wreath. Add some gold sprinkles to make the wreath sparkle!
4. Christmas Tree Layout Cupcakes
Decorate cupcakes with green piped icing and then lay them out on the table in a large Christmas tree shape. The base of the tree layout can be lines of red cupcakes for the pot and you can decorate a star cupcake for the top. This is perfect for group gatherings.
5. Gingerbread Man Cupcakes
Add mini gingerbread men to the top of your cupcakes and make a ginger sponge to match.
6. Elf or Santa Hat Cupcakes
These cupcakes are topped with ice cream cones that have been covered with red or green icing 'hats'.
7. Red and Green Swirl Cupcakes
Simply add red and green icing to a piping bag and swirl that festive colour on top of your cupcakes! Perfect with holly and snowflake cupcake cases.
8. Polar Bear Cupcakes
Create cute polar bear faces by piping white icing and adding little touches of black for the nose and eyes.
9. Red Velvet Cupcakes with Black Cherry Tops
The dark velvety richness of these cupcakes is ideal for the winter months. Add a dark red cherry to the top with a dusting of icing sugar 'snow'!
10. Cinnamon Swirl Cupcakes
Put half vanilla and half cinnamon flavoured icing into a piping bag and you'll achieve these yummy two-toned cupcakes.
11. Champagne Cupcakes
Perfect for Christmas Day or New Year's Eve these cupcakes are made with sparkling wine and can be topped with pearl sprinkles.
12. Silver Star Cupcakes
Silver lustre shimmer dust gives these cupcakes a sparkle and helps create a wet look. Father Christmas will be impressed if you leave him one of these!
13. Bourbon Black Forest Cupcakes
Rich, dark cupcakes, perfect with a mug of hot chocolate. Swirled with red icing, these look fabulous on a festive table.
14. Ice Skate Cupcakes
Cupcakes topped with sugar ice skates (you'll find a template via a quick Google search).
15. Bronze High-Top Cupcakes
A cross between a cupcake and a dessert, these sparkling cupcakes will create an impressive centrepiece on your Christmas table, simply dust the chocolate icing with edible bronze metallic dusting.
16. Poinsettia Cupcakes
There are some great tutorials online to make some poinsettia cupcakes using royal icing to add some colour to your festive table.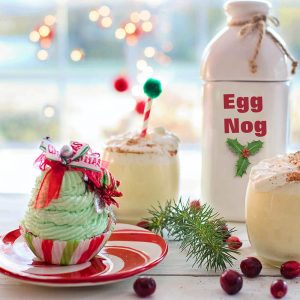 17. Snowman Cupcakes
Use white marshmallows to create snowman cupcake toppers. Fun to make with the kids. You can even add cute snowman paper cases!
18. Chimney Cupcakes
Using the cupcake as a chimney, add white fluffy frosting for the chimney smoke and black liquorice for Santa's boots sticking out of the top of the cupcake!
19. Christmas Cake Cupcakes
Mini fruit cake cupcakes topped with royal icing are a fun take on a traditional favourite.
20. Spiced Apple Cupcakes
The warming aroma of spiced apple baking is perfect to fill the house at Christmas time!
21. Chocolate Chestnut Cupcakes
'Chestnuts roasting on an open fire…' add some chocolate and you have a cosy combination.
22. Christmas Pudding Cupcakes
These fun cupcakes are upside-down, turned-out cupcakes, topped with chocolate!
23. Cranberry Cupcakes
Ideal for those who don't like cakes to be overly sweet. Top with cream cheese frosting if you like a contrast of flavours.
24. Rudolph Cupcakes
These cupcakes use pretzels for Rudolph's antlers and a glace cherry for his nose!
25. Chocolate Orange Cupcakes
Chocolate orange flavour sponge topped with chocolate frosting and (because, after all, it's Christmas) place a cheeky segment of Terry's chocolate orange on the top!
26. Snowy Coconut Cupcakes
These cupcakes are simple but effective: vanilla icing topped with desiccated coconut.
27. Cupcake Wreath
Another stunning centrepiece — this time lay the cupcakes into a circular wreath shape for the table and finish with a real ribbon bow at the bottom of the display.
28. Christmas Light Cupcakes
Use white frosting and then pipe different coloured light dots, all joined with a line of black icing (you can use icing tubes or pens for this).
29. Eggnog Latte Cupcakes
Your favourite Starbucks order in a cupcake! The perfect accompaniment to a coffee.
30. Peppermint Mocha Cupcakes
Heavenly coffee and mint cupcakes — finish with a mini stick of candy cane on the top.
Which of these cupcakes will you choose for your festive bash? Don't forget to pack them into cupcake boxes whether you're storing them or transporting them. Christmas is a busy time so you can always pre-make and freeze the cupcake sponges and have fun decorating them with the family. If you're baking up a storm, we also have Christmas cake boxes which provide the perfect finishing touch to a cake that you are gifting or selling.