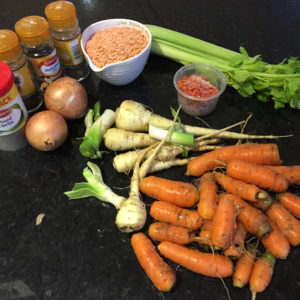 With Spring just around the corner, we decided to give our vegetable patch it's very own Spring Clean, and came across some Winter veg. This is a perfect opportunity to make a tasty home grown soup, and whatever happens to be lurking in your veg patch can be put to good use. If you've found any potatoes, add them too as they serve as a natural thickener. As well as the veg, herbs and spices can lift the dish to a new level.
1 cup of Lentils
1000ml of chicken stock
Carrots
Parsnips
Leeks
Onions
Celery
Mushrooms
Pepper
Lemon
Chillies
Mixed Herbs
Black Onion Seeds
Smoked Paprika
Cumin
Coriander
Vegetable Stock Cube
Sea Salt
Garlic
Start by cooking the lentils and chicken stock for about 20 mins (as per the packet instructions) At the same time, clean up your veg and chop into smaller chunks. The smaller the chunk, the quicker the soup will cook. Once your lentils have had their 20 minutes, throw in all the chopped up veg, the herbs and spices, plus salt and pepper to taste. Simmer until the veg has softened, adding boiling water as required. Finally, whizz the soup up with a hand blender to make your lovely soup nice and thick!
Need to thicken the soup quickly? Mix a tablespoon of Cornflour with just enough cold water to make a thick paste and whisk into the soup. Alternatively, cooked rice or breadcrumbs can also thicken the soup just as well.
If you have any over, use some of our 450ml deli pots and pop them in the freezer (once fully cooled).