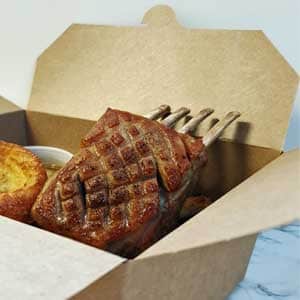 Leakproof Food Cartons remain one of our most popular product lines – we love them, our customers love them, and we all love their sustainable credentials as they are great for the environment! People looking to replace plastic takeaway containers have migrated to these cartons as they are utter winners in the world of takeaway food and office lunches. The 98oz carton is big enough to hold a roast dinner complete will fully grown Yorkshire Pudding!)
Our supplier has given us a heads up regarding our White Leakproof and Brown Leakproof Food Cartons; as of May 2nd, the entire range will see a price increase of 13%.
Digging a little deeper, this unavoidable increase is initially down to soaring electricity costs associated with running the mills that process the raw materials. Then there is the the increased transportation costs, and finally (and this is a biggie) with the immediate removal of Russian saw mills from the supply chain, sheer demand is pushing the price up across the board. The good news is that we hold good stock levels and are actively encouraging you to buy them in April to avoid the price hike. These are core products for many, and we'd love to see you, our customer save some money. All bulk pricing discounts remain in place on the website too. We can see a ripple effect to other products happening as the sanctions in place put further strain on an already stretched industry.
What makes Leakproof Food Cartons so versatile?
Put most simply, they hold both hot & cold food, are greaseproof so will take oily / wet foods and are available in a number of sizes:
Carton No.1 – 26oz / 755ml (Kraft and White)
Carton No.2 – 51oz / 1451ml (Kraft and White)
Carton No.3 – 69oz / 1965ml (Kraft Only)
Carton No.4 – 98oz / 2790ml (Kraft Only)
FANDWPLAIN – 36oz / 1049ml (Kraft Only)
Carton No.8 – 46oz / 1324ml (Kraft and White
They require no assembly and can be used straight out of the box so are ideal for street food stalls, cafes, restaurants and takeaway outlets. Our Uk manufacturer advises that the boxes are made from paperboard from a sustainable source and have a water based poly lining. They are pulpable or recyclable with paper or disposed of in a commercial composter. Most of all? End users love them!
Kate 🙂