How's your January going? Fear not, pay day is just the 96 days away. (It certainly feels like it) One way to save a few quid and also use up leftover veg is to make soup. This used to scare me for some reason, although watching the other half make it last week showed me just how straight forward the whole process is. (He knows what he's doing, me, not so much) Soup is a perfect winter warmer, and super healthy if you lay off the carb heavy dunking bread.
It's root veg season, so you should have no issue sourcing cheap Carrots, Parsnips, Potatoes, Swede, Turnip, Leeks and Celery. Avoid Broccoli, Asparagus and Cabbage as they are bitter and can affect the overall flavour. Potatoes play a key part so include a couple of decent sized ones as they are a natural thickener. Grab yourself a big pot – this one holds about 6 litres.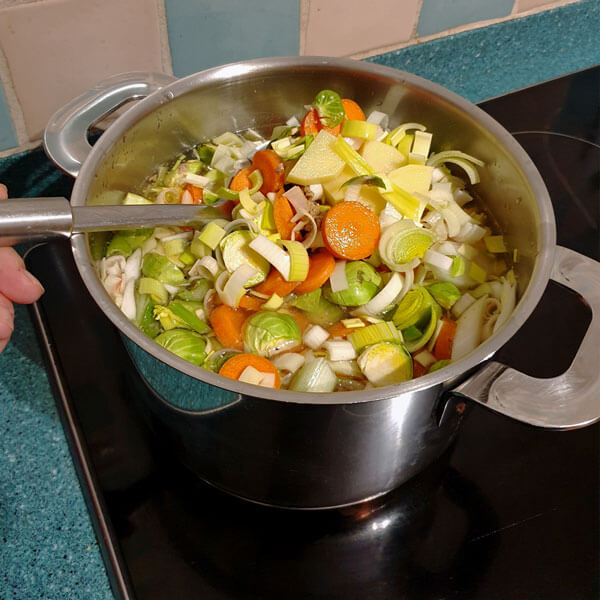 Ingredients. Go your own way with what you have or add the following: (Ours cost under £2.00)
5 Carrots
Half a Leek
1 Onion
4 Medium Potatoes
20ish Sprouts (ok, not for everyone)
Any 2 stock cubes – Lamb, Beef and Chicken are all good.
Pepper to taste. No need for salt, the stock cubes are salty enough.
Then add cold water.
There is no real need to completely cover all the veg at this stage – as the water cooks the stuff at the bottom, it'll start to soften up and reduce down. Give it 20 mins or so on a gentle boil or until all the veg is nice and soft. Without draining the water, take a stick blender (or mixer) to the whole lot. All that goodness is locked in – nothing is wasted! Too watery? Put the pot back on the heat and reduce it a bit. Too thick? No worries, water down before re-heating.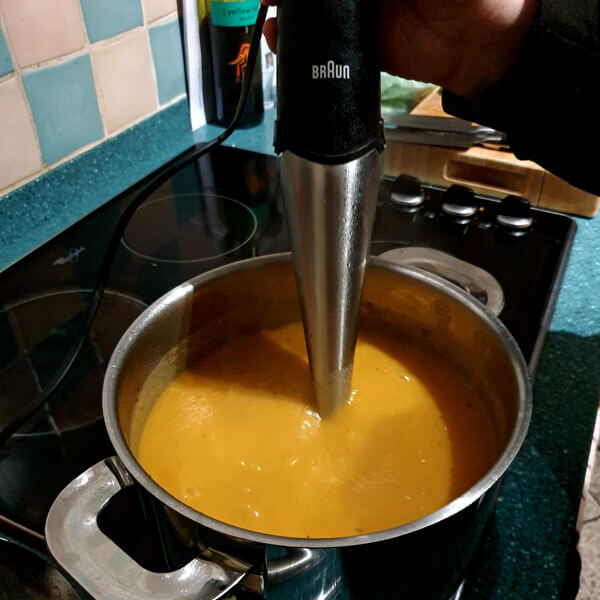 We ended up with about 3 litres of blended soup. At this point you could freeze it down just as it is in a Tamper Evident Container. Wholesome, healthy, sprouty soup. Nothing spends too much time in our freezer, hence no date on the label – with any luck I'll have forgotten about the 20 sprouts by the time I defrost and eat one of these. We stock Disposable Soup Containers as well – perfect for that take away option.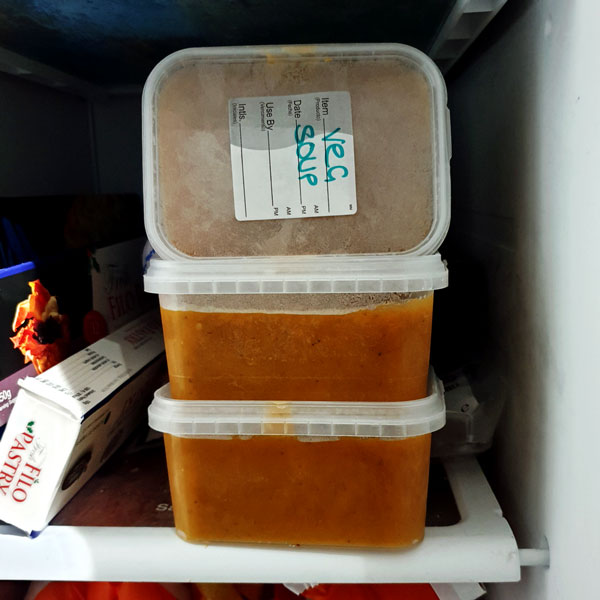 Feeling a little adventurous? Add Turmeric, Cumin, Madras etc and curry it up! (Great with a Naan bread) Bulk it out with left over chicken, whole bits of new veg or eat straight as it is. Your future self will thank your past self for this on week 5 of the longest pay month EVER, when a 35p portion of soup is quite honestly the best bowl of food on the planet.
Kate 🙂