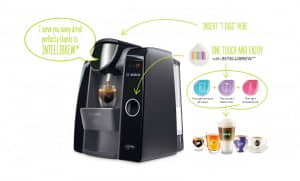 We have added to our tea and coffee ranges with some Tassimo coffee discs.  The Tassimo system by Bosch is a high tech way of making you the hot drink of your choice every time.  With each disc you scan the bar code on the disc and it then works out how much time, what temperature and amount of water it needs to create that perfect drink for you (see Tassimo's diagram for a perfect explanation!).
Initially we have brought in the most popular of their ranges which are:
Tassimo Costa Cappuccino T Discs – Pack of 8
Tassimo Costa Latte T Discs – Pack of 8
Tassimo Carte Noire Espresso Classic T Discs – Pack Of 16
Tassimo Kenco Medium Roast T Discs – Pack of 16
Tassimo Kenco Pure Columbian T Discs – Pack Of 16
We will in the future be bringing in more teas and coffees to develop this range of products.  Below are some of our photo of the product and a Tassimo video showing how the system works for a Latte coffee.