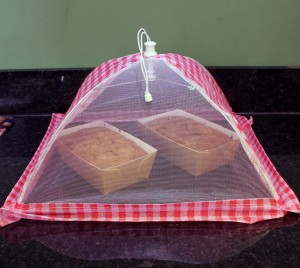 The sun is out, a heatwave is predicted and there is nothing like throwing the doors open and eating outdoors.
Unfortunately, we all know that as soon as the sun comes out, the flies and wasps are sure to follow very quickly.  Tala has a simple pop up food cover that is ideal for use either indoors to cover salads and your baking which is cooling down on a wire rack (or in the bake and take cases as here), or outdoors (assuming it isn't too windy) for al fresco dining.
We have the red and blue gingham tala food covers in stock for quick delivery.