With our landfills and oceans full to the brim with plastic, it's no surprise that we're soon to ban the use of single-use plastics in the UK. Not only are single-use plastics incredibly bad for the environment, but they are also frowned upon by consumers, with many choosing sustainable packaging over companies that still package food in single-use plastics. So, what are the best sustainable alternatives to single-use plastic? Read on to find out…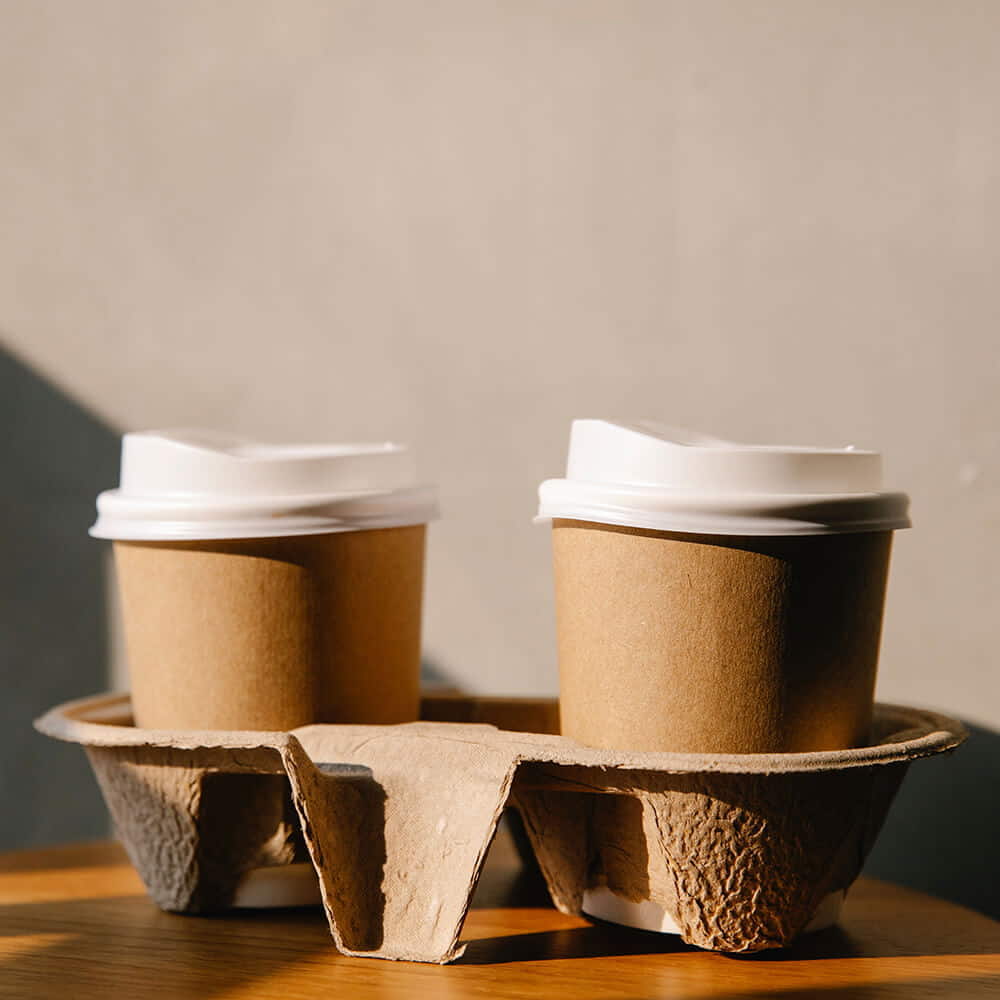 What are sustainable alternatives for single-use plastic?
Single-use plastic doesn't biodegrade and can release toxic chemicals into the environment when it sits in landfills. For eco catering equipment, it's important to completely eliminate the use of any single-use plastics in your packaging.
Paper
Paper is an incredibly versatile material that solves many problems with single-use plastic. We all know how dangerous plastic straws are to marine wildlife, which is why paper straws are a fantastic alternative. They easily biodegrade and won't harm any wildlife in the process.
Single-use plastic bags are rife in our supermarkets and takeaways, being instantly discarded before sitting in landfills for hundreds, if not thousands, of years. This is why paper bags can make all the difference. From takeaway food to fruit and vegetables, these paper bags are an easy way to transport food and can be recycled.
Eco coffee cups are also a great alternative to existing takeaway cups as these eco paper cups only have a single layer of coating, meaning they can biodegrade easily.
Bamboo
Bamboo is a great alternative to single-use plastic as when it's grown, it actually draws carbon dioxide out of the environment, rather than contributing to climate change. Plastic cutlery is a huge problem when it comes to takeaway food, bamboo can make a great alternative that won't stick around for years. Those drink stirrers that often come with takeaway coffee can also be made from bamboo rather than plastic. Bamboo is an incredibly versatile and renewable crop as it self-regenerates from its own roots with no need for replanting, making it a fantastic alternative to single-use plastic.
Wood
Similar to bamboo, wood can be used in a variety of instances to replace single-use plastic. Wooden cutlery is fast replacing single-use plastic cutlery as it biodegrades and looks stylish too! Wood is one of the most sustainable and environmentally-friendly materials as it absorbs CO2 as it grows and can easily be recycled and reused. Another benefit to using wood is that any 'waste' that's created when making wooden products is 100% biodegradable, so the environment won't suffer.
Glass
Whilst glass might not be biodegradable, it's infinitely recyclable and reusable. Plenty of food and drink items that are currently in single-use plastic containers can easily be switched to glass. The main benefit of glass is that it can be recycled forever, meaning that it can take as little as one month for a glass bottle to reappear on the shelves again after being recycled. Many people choose to reuse glass containers and store accessories in or even fill them with dry food goods such as pasta.
Sugarcane
Sugarcane fibre is a recently developed sustainable material that can readily replace single-use plastics. Sugarcane, also known as bagasse, is the fibrous residue that remains after sugarcane stalks are crushed to extract their juice. This residue doesn't have to be thrown away, instead, it can be transformed into a fibre when combined with water. This can then create biodegradable plastic bags, plates, bowls, boxes and more. These items are 100% compostable, making sugarcane a fantastic alternative to single-use plastic.
Reusable products
Another option is to replace single-use plastic with reusable products. Many venues and parties now offer reusable glasses that are safe (they can't smash) but then can be washed and reused. Another example of reusable products is stainless steel and glass packaging. These durable materials aren't biodegradable but are safe to wash and reuse in a number of different ways.
Why is it important to make the switch to sustainable products?
With single-use plastic posing such an extreme threat to our planet as a massive contributor to climate change, it's important that we do all we can to help. As a business, by making the conscious decision to use sustainable packaging, you'll hugely reduce your carbon footprint. What's more, today's consumers are very much aware of the environment and would prefer companies that are taking steps to reduce packaging and provide alternatives. This can boost your brand image and help you build a strong customer base.
With so many sustainable alternatives to single-use plastic available, it won't be long until we won't be using plastic at all, helping the environment and improving the efficiency of our businesses.