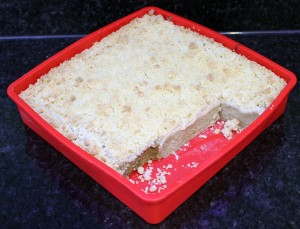 If you are a keen gardener or a chef specialising in seasonal produce, you will be well aware that Rhubarb is currently in abundance and overflowing this year.  There are plenty of things that the versatile Rhubarb can be used to create delicious puddings or used in a main course.  After a quick search, we attempted a Rhubarb Cake Crumble.
As can be seen, it was just about completed successfully, though a little on the heavy side!  For the bakeware though, we normally use our Silicone bakeware range as they are so versatile and easy to handle, no lining or greasing required, easy to clean (in the dishwasher) cools very quickly out of the oven.  This one is the 8″ Square Silicon Cake and comes in a range of colours, not just red.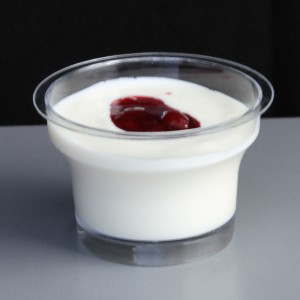 If you are a little more adventurous, then a rhubarb fool could be something for the menu.  We have recently introduced a few new food packaging items that are ideal for puddings and desserts, for example the CH30 mini dessert pot.