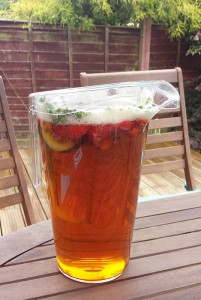 We have just taken delivery and put onto our buy on-line site some new CE stamped polycarbonate 4 pint jugs with lids.  The CE certification means they are suitable for pubs, clubs, event organisers that need to have a need to serve their drinks in larger quantities for customers. The jugs also handily come with more than one marking line – at 2 pints, 3 pints as well as the 4 pint line.  The jugs are also able to stack inside each other, helping to save space for when they are not in use.
The jugs also come with lids which means there is less spillage on their way back to their destination and when they've arrived there is less chance of flies, wasps or other objects landing in the drink.
As the pitchers are made from polycarbonate plastic, they are virtually unbreakable, dishwasher safe (up to around 500 cycles) and are extremely sturdy making them an excellent replacement for glass pitchers, especially as when dropped the only mess is the drink on the floor, not shattered glass.
Cater For You's original logo designer recently asked us for some jugs, champagne flutes and glasses suitable for serving Pimms at a one year old birthday party (we are assured it was the parents who were drinking the Prosecco and Pimms not the toddlers!). He knew we did just plastic which he said was essential as any breakages of glass would be a danger to the toddlers, would spoil the fun and take time to clear up to make safe again.
We were delighted that they could try out these new 4 pint pitchers, which as can be seen below, they used to fill with some delicious looking Pimms. We also supplied them with the MG75 champagne flute and the 2631 disposable hi-ball glasses.
We have a complete range of plastic jugs, plastic champagne flutes and plastic hi-ball glasses, please contact us if you would like to find out more.