The humble platter of sandwiches is truly a thing of beauty, and we all know and love the curly dried out party sarnie. They are a familiar guest at every party you've gone to. Let's face it, who hasn't gone for the last remaining sorry looking triangle of eggy-cressy goodness late into the night? (Be honest now)
We can't promise that those sandwiches will stay any fresher once they've been unveiled and introduced to fresh air, but we think that these platter bags will be a godsend to event caterers.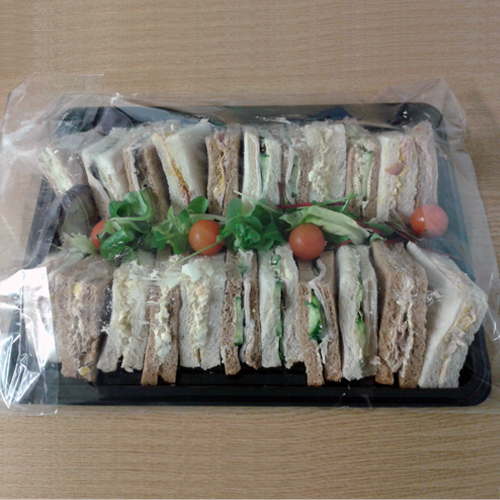 Size wise, they are big enough to wrap even our largest platter bases, and they have a reusable seal on them too. There is no need for a platter lid, so if you need to keep costs down, put a pack of these bags on your list.
Got a random pack of platter bases in your dry stores? Manufacturers are notorious for making lids that only fit one base, ie theirs. If you've discovered a pack of bases and have no idea where they came from, these bags will also be ideal. Make use of that stock, don't bin it just yet!
The largest bag comfortably takes a base 455 x 305 x 23mm (with sandwiches on) and there is a small and medium available too.
Ready to order online today!
Kate
(P.S No Sandwiches were harmed in the making of this blog…but they didn't survive long enough to dry out…)