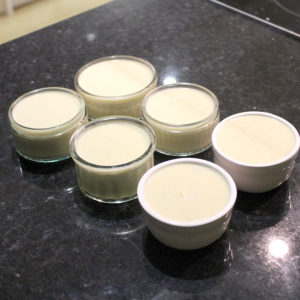 On our (amateur chef's) small vegetable patch we have a rhubarb plant that over the years has come to dominate the area.  Whilst it disguises itself as a small leafless crown during the Winter, in Summer it overtakes and covers everything else in its sight. So to keep it pared back and provide light to other crops, we tried out a few recipes and whilst rhubarb crumble is delicious, we have covered that elsewhere, so we turned this time to a rhubarb cream fool.
Rhubarb Cream Fool Ingredients
400 – 450g of Rhubarb
200g golden caster sugar (will depend on how sweet your rhubarb variety is)
500ml double cream
2 lemons
There are a huge range of rhubarb varieties out there, ours is a fairly chunky greener variety.  From a cull, we used three stalks of rhubarb (just over 400g) and sliced them into small pieces.  Mix half of the sugar and rhubarb in a bowl and sit for 20-30 minutes to infuse and draw out the flavours.  Pre-heat the oven to 160°C / 140°C (fan) / gas mark 3 and spread the infused rhubarb on a baking tray and bake for 25 minutes.
Once the rhubarb and sugar is baked, it will be softer and fully infused.  Pour the pieces into a food processor / blender and mix until smooth.  The amateur chef found the next part particularly laborious, but to make the dish as perfect and smooth as possible, the blended rhubarb needs to be pushed through a sieve into a clean bowl with a spoon and leave the puree to completely cool.
Once the rhubarb puree has cooled, pour the cream and remaining 100g of sugar into a large saucepan.  Bring these slowly to boil and simmer gently for 3 minutes, by which time the sugar should be completely dissolved into the cream.  Remove the saucepan from the heat and then stir in the juice from the two lemons and then the pureed rhubarb.  Once fully mixed in, pour into your serving dish of choice, ramekins, glasses or other pudding pots (preferably matching unlike ours!).