What is Natasha's Law?
Natasha's Law is coming in to force on October 1st; this law directly impacts businesses that sell food prepacked for direct sale (PPDS) in England, Wales and Northern Ireland. The new law means all businesses will be required to label PPDS with the name of the food and a full ingredients list. Most important of all, allergenic ingredients must be emphasised within this list. Are you ready?
Why the need?
It is estimated that between 1-10% of adults and children have a food hypersensitivity. It is also thought that as many as 20% of the population experience reactions to some foods which make them believe that they do have a food hypersensitivity.* Seven times as many people were admitted to hospital with a severe allergic reaction in 2000 than in 1990 and in the decade 2002-12 admissions doubled due to anaphylaxis caused by food allergies alone. In the UK, allergies are the most chronic disorder in children, and overall, disorders where allergy may be involved affect about 1 in 3 of the population.**
What happened to cause this change?
It's 2016: Natasha Ednan-Laperouse visits Pret A Manger at Heathrow Airport. After carefully checking the ingredients label, she purchased an artichoke, olive and tapenade baguette. Natasha had a severe allergy to Sesame Seeds, so took extra care with everything she ate. At the time, the baguette did not require specific allergen labelling, so Natasha shared it with her Dad. 30 mins after boarding the flight, Natasha started feeling unwell, lost consciousness and went into cardiac arrest. The high street chain had failed to mention that the baguette contained Sesame Seeds, a fatal ingredient to Natasha, and the resulting court case and recommendations are well documented.
The resulting inquest found Pret A Manger at fault, and they were instructed to make meaningful change to their policies and working practices. At the same time, Natasha's parents established the Natasha Allergy Research Foundation; they have a clear vision to help people with allergies. With much hard work Natashas Legacy was laid in parliament in September 2019. The law includes stricter requirements for pre-packaged foods to carry a full ingredients list, and this is Natasha's Law. The food industry as a whole have had to recognise the need for it to change how allergen information is displayed on food packaging.
What is PPDS food?
PPDS Food (or Prepacked for direct sale) is food which is packaged at the same place it is offered or sold to customers, and the food is in this packaging before being selected or ordered. This includes food that could be selected from a display unit by the customer, or food displayed for sale behind a counter***.
Examples include
Sandwiches and Bakery Products
Pre-packed Pizzas
Rotisserie Chicken
Pasta Pots
Mobile Vendors, Food Stalls, Burger Vans, Farmers Market Stalls and Street Food Vendors also need to label up any Food Prepacked for Direct Sale.
Food that isn't PPDS
Any food not in packaging, or food that is packaged after being ordered by the customer. These foods are non-prepacked so don't need an ingredients label. As a business, the allergen information still needs to be provided by other means, this can be verbally or displayed in written form .
Food supplied from one business to another is classed as pre-packed food so must have full labelling including the name of the food and a full ingredients list, with allergens too.
Distance Selling
New labelling requirements do not apply to PPDS food under the distance selling banner. (ie Food sold over the phone or Internet) However businesses operating a distance selling model must make full allergen information available before purchase and also at the moment of delivery. Information must also be made available between the point the customer orders and when they take delivery. As a business operator, you also need to be very clear in how you make your information available to your customers.
The whole point is to introduce good due diligence into every business working practice and give your customers accurate information so they can make an informed decision about their purchase. We are talking about the health of your customers after all and there can be no ambiguity.
"But I know what goes in my food, I source the ingredients"
You may know, but how about your front of house staff? There's a good chance your sandwiches are made in the early hours of the morning, long before front of house staff arrive. It's well documented that the hospitality industry is stretched in terms of staffing, and in a fast moving industry, there quite often isn't the hours in the day to fully brief everyone before the doors open. So rather than making this just a(nother) tick box exercise, it should now form part of your company best practice. Give your customer the accurate information they need to make an informed choice. Their life may well depend on it, and you are complying with the latest laws.
"Right, this affects me. Remind me, what do I need to do?"
Food businesses need to tell their customers if any PPDS food provided contains the 14 allergens listed below, and this is food law so there's no avoiding this one. People have allergens to all sorts of food, but the requirement specifically relates to the following:
Celery
Cereals containing gluten (eg. Barley & Oats)
Crustaceans (eg. Prawns, Crabs & Lobsters)
Eggs
Fish
Lupin
Milk
Molluscs (eg. Mussels and Oysters)
Mustards
Peanuts
Sesame
Soybeans
Sulphur dioxide and Sulphites
Tree Nuts (eg. Almonds, Hazelnuts, Brazil Nuts, Walnuts, Pecans, Cashews, Pistachios & Macadamia Nuts)
Here's what you need to do. Somewhere on your Sandwich, Pasta Salad, Baguette or Pre-Made Salad, you need to display ALL the ingredients, highlighting the allergens in BOLD. It's fine to keep the design simple – this is an informative label above all else. In practical terms, it's likely that the chef and/or manager will need to sit down and list exactly what every item sold actually contains. This will be a bible you will add to as your menu evolves, so it's worth developing a straightforward system now. (Yes, it'll take up a whole bunch of your time too) Put a copy of the allergen list somewhere handy for your counter staff to access. There are plenty of checklists and forms available online to make your life a little easier.
What now?
At this point, you have a few choices; how you proceed will depend on your business model and budget.
Ask yourself the following questions:
Does Natasha's Law apply to me?
How does it impact my business?
What business practices do I currently have in place?
What changes do I need to make to ensure I comply?
Bottom line, you need to display the information clearly. If PPDS makes up a small / temporary part of your overall business, it's worth asking whether you want to invest big money in a machine, when you will only sell 100 items a month that need a label. As a pointer, the image below is a good example of the kind of label you need to produce, and we can create a custom label for you.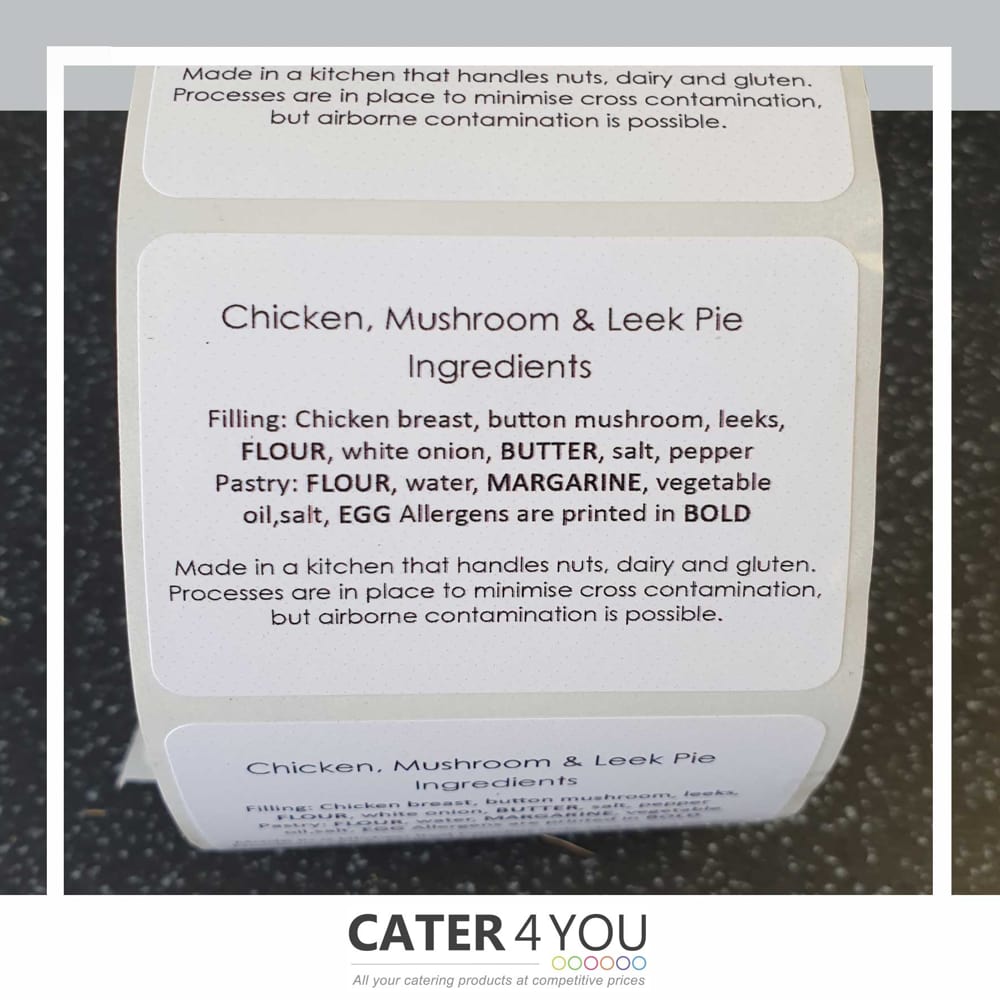 We'll be talking more about the implications of Natasha's Law in the coming months – if you have any questions, please feel free to contact us, we're here to help.
Kate.
Sources: *Food Standards Agency, **Natasha Allergy Research Foundation, ***Food.gov.uk