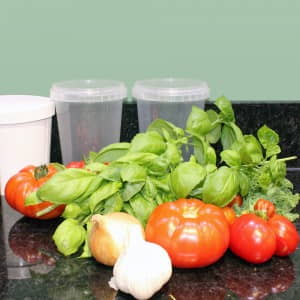 As the Autumn draws in, we have seen an abundance of fruit and veg from our greenhouse and small vegetable plot.  As part of this, we have had a particularly good crop of tomatoes so decided to do something with them before they went off.  Grabbing a few tamper evident containers from our food packaging samples area, we embarked on some soup making which we could also put into the freezer as a winter warmer.
Tomato Soup Recipe
From the garden we took some basil, tomatoes, leeks and onions adding some garlic and chicken stock too. The fresh tomatoes which were a mixture of beef and cherry were very sweet and the basil gave the soup a strong tangy taste.  As we had cooked up way too much for our immediate requirements, we used some of the tamper evident containers, leaving a small space at the top, let it cool back to room temperature and placed one in the fridge and another into the freezer.  We specifically used the 670ml round tamper evident container which was suitable for two portions of soup.
Storing the Tomato Soup
Cater For You stocks a range of sizes and either round tamper evident pots or rectangular tamper evident containers, all suitable for storing soup and many other types of food ready for re-sale.  The reason they are tamper evident is that once the lid is put in place, it cannot be removed without breaking the plastic seal and hence evident that it has already been opened.  The soup container we used below has had the seal removed as we have already used it several times already, but another photo in the gallery from our samples shows the 'open' tab which breaks to show the tamper evident seal.
We have a large range of the containers in stock from 180ml right through to a 10 litre tub and in either traditional round, square and rectangle.  We hold large stocks of cases of the tubs to enable us to ship next working day, but for larger customers we can also supply by the pallet which is a normal shipping time of 2 – 5 working days.
Toppac Soup Containers
We currently use Toppac as our preferred manufacturer as they are an expert in producing injection moulded products for the European Food Industry and therefore adhere to the highest standards including BRC Global Standard Certified Issue 4 (High Hygiene Risk, Grade A).  We are able to supply BRC certificates on request.
The pots are made from food grade polypropylene approved by BGA and FDA as they are suitable for their heat resistance, eg pouring hot soups in up to around 85°C and for freezing down to -20°C.  Under normal conditions, they are also leak proof, so are perfect for transporting without spilling everywhere and in this case our lunch (though as we'd used the pots several times previously we did wrap them up just in case!). As always, if you are a food manufacturer, please ensure you adhere to the relevant food safety regulations for your food creations.
If you would like more information or sample please contact us, or to place an order, use our buy on-line web site or call our telesales team.