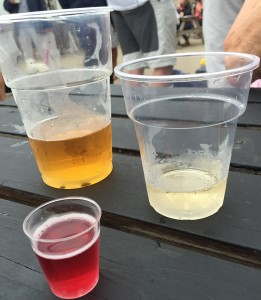 We popped into Cowes week last week to check out the fabulous atmosphere and boat racing.  Never quite off duty, we were pleased to see that plastic glasses and disposable catering supplies were being used in the very busy eating and drinking area making it much safer than real glass.
Although we didn't supply the glasses, the beverages we purchased were supplied in glasses very similar to our Flexi Pint Glasses FG617C and Flex half pint glasses FG613C – both of which are marked to line not rim as were these.  We were rather surprised though that our wine was not supplied in a plastic wine glass but in a plastic half pint glass – not quite the high quality of product / service you would associate with this type of event.
We were also very pleased when we were asked by a charming promotional team to try out a new Strongbow Dark Fruit flavour in 5cl plastic sampling glasses (again not supplied by us but very similar to our ranges) – we have to say, it is a very sweet cider indeed.
In addition to the huge drinks marquee, there were also a number of independent food stalls serving some very different hot take away foods.  Again from a business perspective, it was interesting to see the food packaging that was being used by the vendors.  Where we were seated, it appeared that the vast majority of the stalls were using recyclable / biodegradable products including bagasse food packaging and papers and wooden cutlery.
If you have a large scale event that you need large quantities of plastic glasses and food packaging, give us a call as we hold good stocks of all products and can quickly deliver to anywhere in the UK / Europe – including Cowes Isle of Wight!