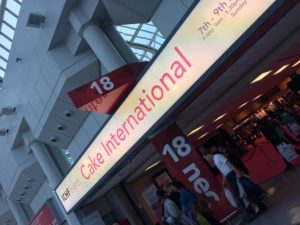 Last month I was fortunate enough to attend the very popular Cake International exhibition at the NEC in Birmingham.  I represented Cater For You as a judge at the National Cupcake Championships.
Like a child on Christmas morning, I was very excited the whole way there.  Even being stuck in traffic for nearly 40 minutes couldn't bring me down and neither could the pouring rain as I scampered from the shuttle bus to the main entrance.
I made my way through the busy crowds of fascinated cake makers as they flooded into the hall and blocked walk ways stopping to stare at the sugar-based wonders.  There were endless displays of utterly brilliant cakes.  Most of which had won awards while some were just there to show off!  Some looked so good, taking a slice should be classed as vandalism to the pieces of art that they are.
I eventually made my way to the cupcake championships stand.  It was a sight to make any mouth water.  Four rows of tables baring a total of eight categories with an average of 10 entrants parading four cupcakes each.  By my maths that's at least 320 cupcakes!  I was glad I skipped breakfast, that's for sure!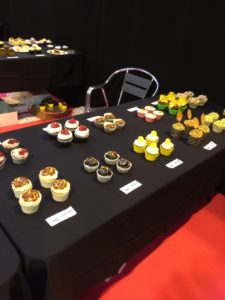 The championships were split into two halves – home baker and professional.  Within these sections there were four categories – Classic, Themed, Alcohol and Free From.  While the first three are quite self-explanatory, the Free From category was for cupcakes that are free from things such as dairy, gluten, nuts etc.
As I made my way to my section, wiping the drool from my face as I walked, I met my co-judge, Chris, a friendly chap who runs his own patisserie.  I'd love to tell you where, but I was so distracted by all the cakes I couldn't remember.  I'm not even 100% sure his name was Chris.
Our section was the 'Free From – Professional' and all our cupcakes looked amazing.  Except for one.  This one sad looking cupcake was, honestly, the most unappetising piece of food I have ever seen in my life!  Roadkill has looked more appealing!
Chris and I spent the first half an hour judging the cupcakes on their appearance.  We had to score them all out of 10.  After this, came the taste test where we marked the cupcakes out of 20.
As you can imagine, the bad looking cupcake tasted as bad as it looked.  I can only describe it as the cupcake that would be served in hell.  I had to ask if the cake was in our section due to it being free from taste.  It wasn't – turns out it was free from dairy and gluten as well as a few other ingredients.  Quite a challenge to make a cupcake that has no normal cake ingredients so hats off to them for trying.
We ploughed our way through all 14 cupcakes that were in our category.  We felt victorious to have reached the other side of the sugar-based mountain.  And full.  Very, very full!
Without a doubt, our clear winner was a nice, simple looking cupcake supporting a macaroon on top.  Why this one compared to ones that had hundreds of flowers or ones piled high with icing and raspberries?  This one tasted the best.  So good in fact, that its looks didn't matter.  It was the Lemon Cheesecake by Ann Gardiner of Mad Hatters Tearoom & Bakery with a macaroon dipped in white chocolate on top to finish it off.  Utterly brilliant!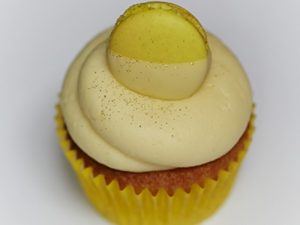 If the bad cupcake from earlier is what they serve in hell, this was definitely what is served in heaven.
There were many great cupcakes in our category so finding a 2nd place was tough; however, we felt it had to go to the very decorative Vintage Rose Cupcake by Debbie Mcfaul of Crumbs Bakery as her cupcake looked like a work of art that shouldn't be destroyed by eating it.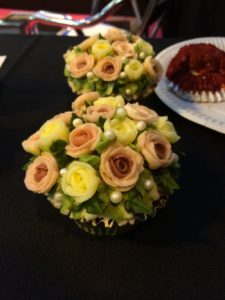 Here are some of the other entrants from a mixture of categories:
Once we had judged our category, all the judges were taken to a private room with all the winning cupcakes.  We then had to decide which two of these was the very best with one being from the professional category and one being from home baker.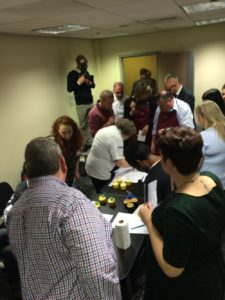 It wasn't hard to decide and it was quite the unanimous decision.  The overall winners of the National Cupcake Championships 2014 were Laura Morris with her Chocolate Banana Fudge (Safari themed) Cupcake and Daniel Addy of Chef Dan's Cakes with his Chocolate & Amaretto Cupcake.
After judging the cupcakes and taking a twenty minute breather I wandered about the exhibition in search of sugary treats to keep my sugar rush going.  Finding nothing but cake making equipment suppliers and decorating goodies I stumbled across some actual art that wasn't in cake form.  I found a version of Michelangelo's masterpiece The Creation of Adam that can be found on the ceiling of Rome's Sistine Chapel.  At first glance, it appears like it's just a pretty replica, but when one looks a little closer it becomes clear what's in front of them.  It's a replica made completely out of cake toppings!  Measuring 5.7m x 2.8m, the 'Baking of Adam' is exactly how a sweet-toothed Michelangelo would have wanted his work to be interpreted.  The edible version consists of over 10,000 marshmallows, an estimated half a billion cake sprinkles and took 168 hours to complete.
Sadly, the masterpiece was roped off and I was unable to eat any of it so I continued my search.  I felt this was the safer option to jumping the rope and start picking at the toppings.
Eventually, I discovered a cake stall.  My search was finally over!  The only problem now, was that I wasn't the only one to find this little oasis.  Hidden within all these stands and displays that the exhibition hall could hold, only this one was selling cakes and they just so happened to be a customer of ours, The Little Round Cake Company from Shrewsbury.  This meant that I couldn't just get a cake or two for myself, I would have to take some back to the office on Monday with me.  I would be crucified if I told my colleagues about getting cakes from The Little Round Cake Company and turn up empty handed.  So, obviously, I had to get a few and, oh my word, they were incredible!
 Once I had my little round cakes, and even a humongous meringue, I continued to wander around the exhibition. Well, I say wander.  I, in fact, mean shuffle through the crowds.  There was one point where the traffic of people actually came to a complete standstill for a few moments.  I could hear people around me trying to work out why no one was moving.  One even suggested the possibility that someone had fallen down and is being trampled over like a ghastly scene from any major supermarket on Black Friday.  This was proved to be just the vivid, and slightly worrying, imagination of someone who I think may have been experiencing the peak of their sugar rush.  Mine was now on the come down and with the imminent presentation of the award for my category's winning cupcake, I decided to find a seat.  After all, I had seen everything the exhibition had to offer, twice.
Here are just a few of the truly outstanding cakes that were on display.
The final thing on the day's agenda was to present the award for the cupcake we decided was the best in our category.  I was handed the gold envelope and microphone and presented the trophy to Ann Gardiner along with celebrity cake maker, Mich Turner.
All in all, it was a great day.  I feasted on some utterly amazing cupcakes, saw some mind-blowing cake designs as well as a very impressive interpretation of Michelangelo's masterpiece The Creation of Adam.  I even managed to meet one of our long serving and valuable customers.  As tired as I was when I eventually arrived back home, I would definitely do it again and would highly recommend being a cupcake judge to everyone!
Keith