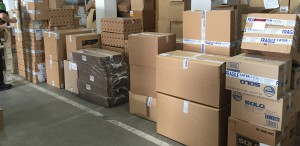 Since launching the new web site in May, we now have the ability to offer an enhanced range of new delivery and click and collect options. At the beginning of the year we added a number of timed delivery options such as the next working day by 10am and 12pm but now we have added a new economy service provided by Hermes for smaller packages, which is a 2-5 working day service, at a lower cost. The options for Mainland UK shipping options are now extensive, below is an image of the options available to customers when checking out:
As can be seen above, we try and ensure that all orders placed before 2pm are shipped out the same day. After 2pm, please call us and we will be able to see how busy our warehouse is and endeavour to ship your goods out if you are desperate for next day delivery. All of our couriers are normally gone by 4.30 to 5 and we only work Monday to Friday!
The Hermes delivery options has also allowed us to lower the cost to Northern Ireland and other non-mainland UK destinations of smaller packages too as below:
Need some packaging in a hurry? Click and Collect
The final new delivery option which we are particularly excited about is our new click and collect option. In our last warehouse, we weren't able to offer this on the web site, so we are delighted that the new warehouse has allowed us to do this. As we are based just a few minutes from J4 off the M40 on the same road as High Wycombe Football Club, we are accessible to many of our customers from a wide area, if you need something in a hurry / same day. We offer plenty of customer parking at our warehouse, and will call if something is out of stock.