The evenings are getting darker earlier, the Coca-Cola advert is starting to appear on TV and frost is having to be scraped off car windscreens before the school run meaning one thing is around the corner…Christmas!
As well as chestnuts roasting on an open fire and turkey, Christmas 'tis also the season for the family favourite mince pies.
Mince pies are hugely popular at Christmas time, with reports that claim we consume 300 million over the festive period. That's a lot of mince pies!
It is estimated that we've been enjoying them at Christmas as early as the 13th Century when they used to use meat like beef, mutton or pork. Whereas nowadays, the standard mince pie is meat-free, instead using ingredients such as dried fruit, spirits like brandy and spices.
Here at Cater For You, we all have a bit of a sweet tooth, so when the idea came up about reviewing mince pies in the run up to Christmas, not a single objection was raised in the office.
We will be trying out 2 mince pies a week for the next six weeks. We'll try ones available in supermarkets, local bakers and even have a crack at making our own, scoring them all out of 30 considering three different categories – looks, pastry and filling.
In the past, our office walls have boasted score boards for doughnuts, however, it is now time for the mince pies to have their moment in the limelight.
Week 1
This week we have Tesco's Finest All Butter Deep Filled Mince Pies as well as ASDA's Extra Special All Butter Mince Pies.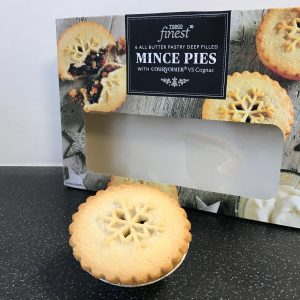 Tesco did well in getting our review off to a great start by making these delightful mince pies. The first score in our review is for looks and these were very pleasing on the eye scoring an impressive 9/10. They had a nice design, good colour and just the right amount of sugar sprinkled on top.
Next came the first taste test – pastry. As this is the first part of the pie to touch the taste buds, it needs to have the right texture as well as tasting great. This pie's pastry didn't let us down. It was soft yet didn't crumble into a thousand crumbs meaning it held together well preventing any of the filling spilling out on to our hands or on any of our laps. This scored 8/10.
The filling, however, didn't quite cut it compared to the rest of the pie. It wasn't a case that there was anything bad or wrong with the filling, just that nothing jumped out to suggest that it was great. A little disappointing considering the looks and pastry were so good. Due to the filling not being bad, but not being great either, we couldn't score it any higher, or lower than 7/10. Which is still a pretty good score.
Next up this week was the ASDA Extra Special All Butter Mince Pie. The premium option out of the pre-packed mince pies available in the supermarket giant.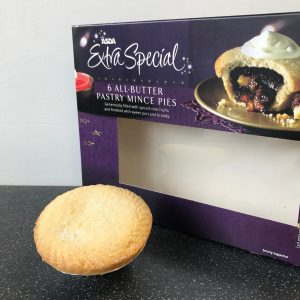 Let's be honest, these look boring. Good colour, but a simple looking pie with minimal effort in the design. They have a smattering of sugar that looks almost dumped on top rather than scattered, as it's all located in one small spot. Sadly, a score no higher that 4/10 can be awarded for the looks of this pie.
Now the taste test is a different story. It's as if ASDA spent all their time on the taste of the pies rather than how they look. The pastry scored a great 8/10. It had creamy elements along with good consistency. Minimal amount of crumbs, which is always good when at wearing your new work fleece.
The same score was given for the filling. A nice fruity flavour with a decent amount of fruit, a hint of alcohol and not too heavy on the spices. If this was a taste only test, they would score quite highly overall I feel, however, we are taking into account looks as well. An overall score of 20/30.
Below is a chart of the mince pie scores. As you can see, the low score for the presentation of the ASDA mince pies has brought their overall total to below the not quite as good tasting Tesco pies.
The Scoreboard

Each week, we'll update the scoreboard chart as we count down to Christmas.