As December makes a frosty appearance we test out two more mince pies to establish who has the best one this year. This week sore two supermarket heavy weights battle it out – Waitrose and Marks & Spencer.
First up was the premium mince pie M&S has to offer this year. A delightful looking pie with an almost homemade look to them featuring a double pastry star sat atop the mincemeat filling peering out below all topped off with some powdered sugar. One of the first we all noticed when taking the pie out of its case is that it's the first one to not use a foil dish, choosing to go with a brown greaseproof paper version. This pie stood out as one of the best looking so got an instant 9/10.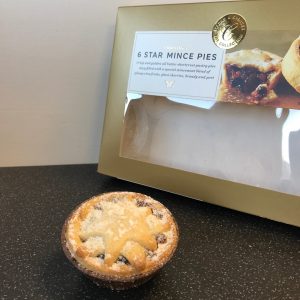 Of course, next was the pastry taste test. And what a pastry it has! An almost perfect texture and taste. Not quite as good as the shortbread tasting Sainsbury's pie from last week, however, a solid 2nd place. 8.5/10
The filling was just as good. Nice and packed with fruit to deliver a gorgeous taste that left you wanting another. An easy 8.5/10. Hard to give it a 9 or 10 without a dollop of cream or custard!
Overall, a really good mince pie which is without a doubt the best we've tried so far this year with a total score of 26/30 and a taste only score of 17/20. We look forward to tasting the mince pie that'll beat this one!
The second mince pie this week was from the supermarket Waitrose with their premium all butter version. They also stock a puff pastry mince pie, however, all the others in this review have been regular pastry so best to stick with an even playing field.
At first glance, these look fairly average. The only thing saving them from being scored the same as ASDA's mince pies was the colour of the pastry along with the perfectly even sprinkle of sugar on top – 6/10.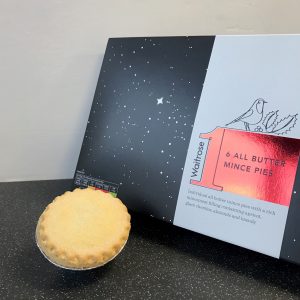 The taste of the pastry these mince pies were wrapped in was delicious. An exceedingly good shortbread taste and texture almost had a melting affect as it crumbled. 8.5/10.
Comparing this mince pie to golf scoring, the looks were a bogey, the pastry was a birdie while the mincemeat was par. A very standard taste and texture. Nothing bad – which is always good, however, not enough to wow us – 7.5/10.
Considering it was from Waitrose, we were expecting a slightly better mince pie but were a little let down by the unexciting filling. A shame as it was wrapped in a great pastry.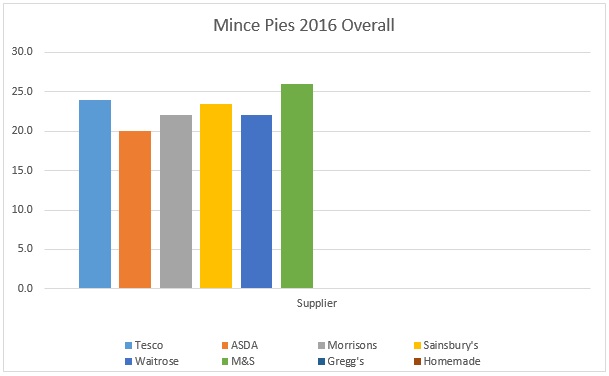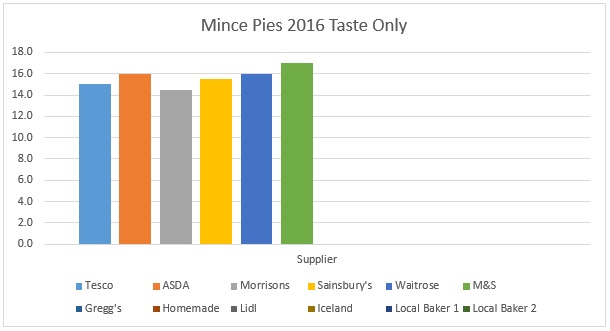 As you can see from both charts, Marks & Spencer are clear leaders. Next week we'll have a go at making our own along with trying some from frozen food specialists Iceland.