This week's competitors joining the battle for the top spot in the Cater For You mince pie taste review were Morrisons and Sainsbury's. Sticking with the premium range like last week, the two supermarket giants boast 'The Best' and 'Taste the Difference' ranges respectively.
First up, we tried Morrisons' 'The Best' All Butter Mince Pies. With range named 'The Best', we had high hopes, however, while they weren't the best, they were still pretty good. Looks-wise, they were higher than previous pies looking like a dome with a nice snowflake design on, but sadly, the edges did look a little burnt. This brought down their score to 7.5/10.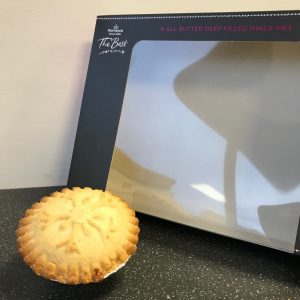 Next up was the all-important taste text. First of all we had to get through the pastry, which was sadly, quite flavourless. Something we found to be quite disappointing as we're huge fans of Morrisons baked goods, namely their fresh doughnuts. Maybe it was our high expectations, or maybe these mince pies just weren't up to scratch. Either way, a score of 6.5 was unanimously awarded.
The filling, however, was a different story. A nice fruity flavour which was extremely tasty. Lots of fruit, not too much spice or alcohol which can over power the mincemeat flavour. Filling scored 8/10 giving an overall 22/30.
The next mince pie this week was the Taste the Difference All Butter Mince Pie from Sainsbury's.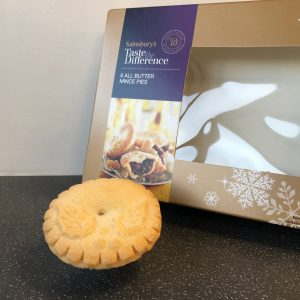 Straight away, these mince pies looked superior to the Morrisons entry. A beautiful looking pastry with a nice and simple holly leaf and berry design on top along with a sprinkling of sugar. Easily 8/10.
The pastry tasted even better than it looked. Nice and creamy with a little crunch. The flavours and texture were similar to shortbread meaning this was up there as one of the best – 8.5/10 (the highest scoring pastry so far).
The filling, however, couldn't keep up with the pastry which was a real shame. It lacked a great deal of flavour. Nothing was bad with the mincemeat, it's just nothing jumped out as fantastic. Very easy to eat, however, the pastry stole the show. Filling scored 7/10 leaving an overall 23.5/30.
While trying out these mince pies recently, we've discovered that the looks of some good tasting mince pies are bringing their scores down. For this reason, we will keep a score for overall as well as just taste. This way, a great tasting mince pie can receive the praise it deserves even if it looks bad.
Overall score which includes presentation: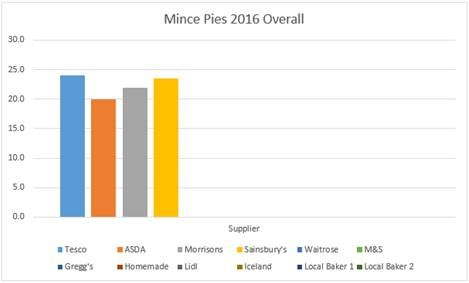 Taste only score: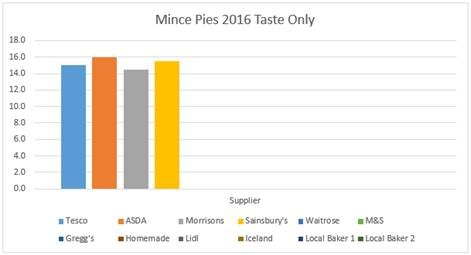 Evidently, this new chart shows off just how good the ASDA mince pies were – they've moved from bottom to top.
Come back next week to find out how Waitrose and Marks & Spencer hold up…