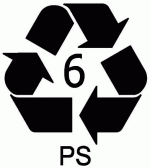 "Can I recycle your plastic glasses and containers….?"
…is a question we are asked on a weekly basis. The good news is that you can recycle the majority of our plastic glasses and food containers. If all the long technical names (normally beginning with P) confuse you, check our product descriptions where you will find product materials and recycling information. Look out for the little symbol with the 3 arrows – like this little guy to the right. The number refers to the recycling bin you will need to look out for, and the letters are an abbreviation of the material. Your last job is to check with your Council/Authority to see which recycling facilities are available to you locally.
Want to know more about recycling? Recycle.com have a wealth of information for you and your customers.
Of course the other option is to check out our range of Biodegradable packaging – kind for the environment. event friendly and easier to dispose of. Do your bit for the world we live in – it's the way forward!