Our cardboard noodle boxes are one of our most popular take away food packaging products. We are occasionally asked whether they are actually leakproof with the typical ranges of pasta, noodles and rice that are put in. So, to see just how leakproof they are, we tested the boundaries of a noodle box with boiling hot water to see if it leaked (out of the seams, obviously if you turn it upside down it will leak!).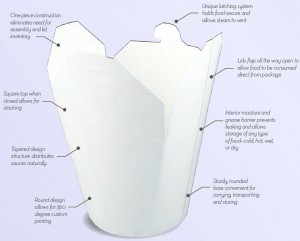 As can be seen from this unscientific video below, we placed a super absorbent kitchen paper towel underneath the noodle pot and filled it with freshly boiled water and let it stand for a short while.  As can also be seen, the noodle box can be held for a short while with hot product in, though not too long with boiling water.
How is it possible that the noddle boxes made from cardboard are leakproof?  The majority of our range is currently made by Fold Pak and branded as the SmartServ® and Fold Pak®.  The features and benefits of their design are shown in their diagram / image to the right.
The range of sizes includes 8oz, 16oz, 26oz and 32oz  in a choice of plain white or with a wire handle for premium presentation and for ease of customer use in taking the food away.  In addition to noodles, our customers use the take away packaging for a range of applications including rice based food, deli salads, chicken wings, ice cream, frozen yogurt and many more.
The greaseproof and leakproof container has a very thin lining made from polyethylene but is still recyclable in suitable recycling plants where they are pulped and the card and polyethylene separated with water.
If you would like your own design printed on the plain noodle boxes, then we can arrange this but as it is at the point of manufacturing, there is a minimum run of 25,000.  Alternatively, we have invested in a dedicated label printing machine which means we can print your own individual label design in as few as 25 labels and a quick turnaround.