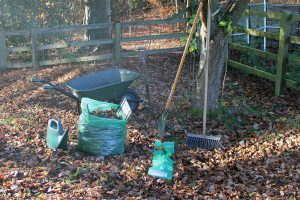 (Update Oct 2018 below.)  We are now in late November, the depths of Autumn are taking full effect and depending on how windy it has been, most of the leaves will have fallen off the trees and onto lawns and garden areas.  Tidying up lawns with fallen leaves can have many benefits, not only making your outdoor space more aesthetically pleasing, but if leaves are left on the ground for too long they can become embedded in the lawn and kill the grass off via a lack of photosynthesis and mould.  If you are a keen bird lover though, fallen leaves are great ways for insects and pupae to hibernate over winter providing food for garden birds (clearing the leaves up though does mean that white cabbage butterflies definitely won't be plaguing your vegetable patch next summer!).
Unfortunately, the recycling bin can only take so many leaves and taking them all to the local recycling centre can involve many trips in the car.  A more environmentally friendly solution is to store all of your collected leaves in the garden and let them biodegrade over the following 12-24 months to be re-used as excellent garden compost for flowers and veg patches.
There are several ways to collect your leaves for later storage.  The current favourite seems to be leaf blowers, though I personally cannot stand them and Autumn now just seems to be a permanent daytime noise of air blowers pushing leaves into the road ready to blow back again!  Early on in the leaf falling season, use your garden lawn mower to collect grass cuttings and leaves at the same time to make an ideal mixture of damp, warm grass and shredded leaves.  This combination means leaves will break down even faster to produce the high quality compost.  Later on post last lawn cutting season, I prefer to use a metal rake (not plastic, the teeth always break after about 5 strokes), which whilst harder work and good exercise also means that the lawn is given a gentle scarifying (something leaf blowers definitely cannot do!).
Ideally you can put leaves into a composting bin that can be rotated on a regular basis which will compost down much more quickly.  In the real world, these are fairly expensive and bulky, so once the normal compost bins have filled up (if you have them), an excellent alternative are our green plastic garden sacks as they are 118 litres which is large enough to hold plenty of leaves. The garden sacks will hold the essential moisture in and can be easily moved around the garden as required.  The bags themselves can also be recycled meaning the whole process is environmentally friendly.
Once you have filled the bags up, assuming the leaves are dry, the leaves will need to be moistened with water to help the composting process and the bags have holes punched into them.  This will enable more moisture to enter the bag and also earth worms will find their way in and work their composting magic over the coming months.
Update October 2018 : We've waited two years and have opened up the bags onto our vegetable patch and found the leaves have almost fully mulched and usable for digging into our soil. Another year is optional for complete breakdown into soil.