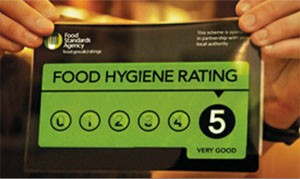 The Scores on the Doors (SOTD) scheme is in practice across the UK (in Scotland it is known as the Food Hygiene Information Scheme) and helps consumers choose where to eat by providing information on hygiene standards for cafes, pubs, takeaways, restaurants, food shops and supermarkets.
The aim of the scheme is to enable customers to make informed decisions on where they eat and encourage businesses to improve and then maintain their standards of hygiene.
Did you know?
Each year in the UK an average of 1 million cases of food borne illnesses are reported.
This leads to 20,000 hospitalisations and 500 deaths.
This costs the economy £1.5 billion annually. (FSA, 2012)
Negative Media – It's Costing You Customers!
A poor SOTD rating can:
Decrease footfall & therefore turnover
Increase insurance premiums (Rating 3 = 25%, Rating 2 = 50% Increase.)
Reduce brand perception
Cause irreparable negative media damage
Damage customer trust
There's no hiding if you get a poor score, ratings are available online and via a smartphone app provided by the FSA. You can download this app from the website: www.scoresonthedoors.org.uk
Food business owners run the risk of prosecution, imprisonment, fines and bans from premises if they fail to meet hygiene standards and laws.  A hygiene inspector has the authority to take enforcement action if they feel food is being prepared and served that is not safe to eat.
So how can Cater For You Ltd help you?
Reduce the risk of cross-contamination by implementing a consistent and documented colour-coded wiping system with our range of coloured cleaning cloths.  An example of this can be seen below:

Work areas and surfaces must be segmented by colour to be HACCP compliant – a critical part of FSA inspection.
Colour-coded wipes amake it easy to identify where the cloth has been used before and in what area / surface it should continue to be used in thus helping to stop cross contamination. This also provides visual confirmation of effective cross-contamination control for FSA inspectors.
At Cater For You we have a range of  colour coded cleaning cloths that are available in these 4 separate colours, from general purpose lightweight cloths to heavy duty cloths, reusable hygiene cloths and microfibre cloths we have a coloured cloth for every cleaning task.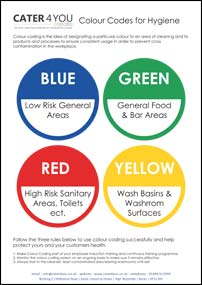 Click here to download your free colour coding wall chart. Please feel free to print this off and use it in your place of work to assist you with your colour coding needs. If you would like to add your own areas to the chart then download our blank colour coding wall chart.
Premises that have a 5 star rating can:
Increase footfall & turnover £££
Improve positive brand associations
Create positive PR
Increase consumer trust & confidence
Win new customers in an increasingly competitive market