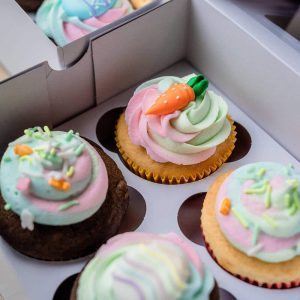 So much care and attention goes into making the perfect cupcake. One of the distinguishing features is the decoration, usually, frosting is swirled to create a peak on the top with decorations to meet a theme. But short of cradling your masterpiece in the palm of your hand, how can you transport it from A to B without damaging it? If you have a cupcake business or you want to send some cupcakes to a friend or family member then you'll need to post them. If it pains you to think of posting your carefully handmade cupcakes then we can reassure you that we have the answer!
How to Post Cupcakes
Step 1: Gather everything you need
Firstly make sure that you have all the tricks of the trade at the ready:
Step 2: Chill your cupcakes
Once you have baked your cupcakes and they have cooled, you need to keep them chilled so that the frosting is as firm as it can be before posting. Put the cupcakes in the freezer for a while, not so they are frozen solid, but just so that the frosting firms up.
Step 3: Nest the cupcakes in a cupcake box
A cupcake box is designed to transport cupcakes safely. You can buy cardboard cupcake boxes or plastic cupcake boxes. There are many cupcake packaging ideas to keep your cupcakes at their best as well as offering an opportunity to decorate the boxes. If you're using a cardboard cupcake box, ensure that it includes inserts so that the cupcakes are separated and held firmly in place. 
Place your cupcakes inside the cupcake box. Once you have done so you can secure them by putting lollipop sticks through the centre, making sure that they reach the top and bottom of the cupcake (cut to fit). These lollipop sticks are the plastic hollow kind that you use for cake pops. Alternatively, you could use wooden food skewers (or kebab sticks) and cut to fit.
Secure the cupcake box with tape and add any decorations, greeting cards or personalised messages to the outside of the cake box. Don't forget to add your business card.
Step 4: Put the cake box in a strong shipping box
Put a couple of ice packs on top of the cupcake box to keep the cupcakes cool and fresh. Put the cupcake box into a shipping box which fits snugly so that the cupcake box doesn't move around, but not too small that it'll get squashed.
Step 5: Use same day or next day delivery
Cupcakes have to taste fresh, so it is worthwhile to pay extra for a speedy service. You want the recipient to eat your cupcakes at their best!
Tips on Sending Cupcakes in the Post
Test the frosting before packing
Sadly, we don't mean eating it at this stage (although we do hope you've taste-tested each batch!). You have to test that the frosting is securely attached to the cupcake sponge. Test this by gently holding the cupcake upside down and giving it a sharp shake. If you are struggling to keep the icing secure, try using a little less. You can always use sugar paste toppers instead of the icing peak.
Secure Tour Box Tightly
If there is any extra space around the cupcake box, fill it with bubble wrap or box fillers for shipping (shredded paper, for example). You could personalise the fillers, perhaps sprinkling some confetti in with the shredded paper to go with a theme. Alternatively, you can use coloured shredded paper (pink or red for Valentine's Day for example), coloured pom pom balls or pastel-coloured macaron foam balls.
Choose a Reliable Courier
Check the courier's reviews and read the small print to make sure that you can trust them to deliver your cupcakes on time without any damage.
Label your Cupcake Boxes
Get your Sharpie out and clearly write FRAGILE and THIS WAY UP on the shipping box. To stop the writing from running in the rain, it's worth investing in some stickers or tape with these words in bold red.
Opt for next day delivery
Plan ahead and think about when you're choosing to post your cupcakes. If you post them near a weekend or bank holiday, they may be left in a sorting office. Also, be mindful of potential issues such as post and transport strikes and seasonal holidays. Always choose an express delivery service such as next day or same day delivery.
The first time that you post your cupcakes you're bound to feel nervous, but if you have carefully planned and executed the above arrangements they will arrive fresh! Opening a box of cupcakes is a welcome sight for the recipient and they'll be able to smell that freshly baked joy. Think about personalising the cupcake delivery with finishing touches such as alternative shipping box fillers or adding cupcake box decoration to add to the recipient's happy experience.