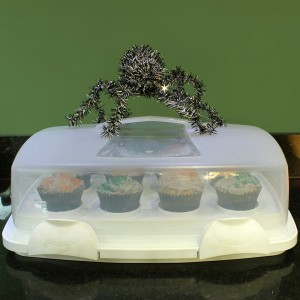 Cater For You's amateur baker had another outing this weekend, with a 9 year old's request for some spooky Halloween cup cakes.  Unwilling to disappoint, the cupboards were searched for some appropriate Halloween themed baking materials to satisfy the request and something vaguely spooky using blacks, green and oranges was created.
First up, some black cup cake cases from a mixed colour cup cake case selection were inserted into a Wilton cup cake / muffin non-stick oven tray.  The mixture was then mixed* and spooned into each of the cup cake cases and put into a pre-warmed over for the next 20 minutes.  Once the cakes had risen and browned off, they were removed and cooled ready for the spooky toppings.
Using some black icing dye, some Culpitt decorating sugar paste (for speed and lack of available icing sugar, butter or cream cheese) and some edible sprinkles, the black, green and orange finished result can be seen in the photo gallery below.  As the cup cakes were being used to give to trick or treaters, the Wilton Cup Cake Carry Caddy was perfect for transporting safely to the door each time.
Cater For You has a wide range of cup cake baking, decorating and packaging available to buy on-line, in stock and ready for quick delivery.  If you have any queries, please do not hesitate to contact us.
*Fortunately, the 9 year old didn't notice that the amateur chef had accidentally used plain flour for the mixture and managed to 'get away with it' by adding some self raising, an extra couple of eggs and some baking powder – the rock / cup cakes actually rose and were quite good straight from the oven!