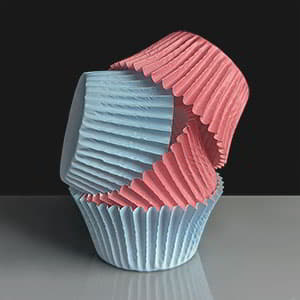 With gender reveals popular on TikTok and Instagram many expectant parents are searching for new ways to reveal their baby's gender. We would argue that nothing does it as well as some classic gender reveal cupcakes. All your guests will enjoy eating the cupcakes so no wastage (like gender reveal confetti cannons or popping balloons). Plus we have some fun ideas on how you can vary the cupcakes to suit the party theme or different tastes…
How Do You Make Gender Reveal Cupcakes?
Gender reveal cupcakes contain either pink filling (for a girl) or blue filling (for a boy). They look tricky to make, but once you know how, it's really easy. The cupcakes are baked as normal, but once they are cooled you use a sharp knife to cut a hole in the middle of the cupcake about one inch deep, keeping the sponge 'plug'. You then use a piping bag to smoothly fill the cavity with either blue or pink frosting, placing the sponge plug back on top. Finally, you pipe plenty of frosting on top of the cupcake to hide the plug cut line.
Gender Reveal Cupcake Ideas
Take a look at our gender reveal cupcake ideas for some inspiration:
Pink/blue cases. To mix it up a little and keep people guessing, you can use baby blue cupcake cases and baby pink cupcake cases.
Different cupcake flavours. You can add the blue/pink centres to any cupcake flavours. Chocolate sponge cupcakes are decadent with chocolate or caramel flavoured icing on top. Or how about strawberry, carrot cake, lemon, green tea…the choices are endless!
Blue or pink sponge centres. Search online for pink and blue sponge crown centres for a little prince or princess. They are easier to make than you think.
Blue or pink sprinkles centres. Piñata style!
Gift boxes. Each guest can take home a cupcake in a cardboard cupcake box.
Personalised cupcake toppers. You can buy personalised edible icing or rice paper cupcake toppers.
Keepsake cupcake toppers. You can personalise the cupcakes with stand-alone words in glitter or you can buy keepsake tokens, ornaments or charms.
Different designs. Cupcakes shaped as dummies, icecreams or bottles…
Themed cupcake toppers. Girl and boy baby ghosts for Halloween? Baby elves for Christmas?
Add photo prop sticks to the cupcakes. Lashes and staches?
Gender Reveal Cupcake Recipe
For a basic gender reveal cupcake recipe take a look at the recipe below. You can adapt it with different flavours, decorations and sprinkles!
Cupcake Ingredients:
225g self-raising flour
225g caster sugar
225g butter/margarine
4 medium eggs
1 tsp vanilla extract
Buttercream Ingredients:
500g icing sugar
500g butter
1 tsp vanilla extract
Method
Preheat the oven to 160 C and line a cupcake tray with blue and pink cupcake cases.
Cream the butter and sugar together. Whisk the eggs and then add them gradually with half of the flour. Mix it all together until it's creamy. If you want to save some time (and to prevent arm ache!), put the ingredients into a food processor and blitz them together.
Take two dessert spoons of smooth cake mix and fill the cupcake cases with mixture until they're two thirds full.
Bake the cupcakes for 15 minutes until golden on top. If you insert a sharp knife into the middle of the cake and it comes out clean, it's done.
Leave the cupcakes to cool on a wire rack.
Once cool, use a knife to cut a hole and a teaspoon to scoop out the centre of the cake and place the intact plug to one side. Fill the hole with pink or blue sprinkles or buttercream with a splash of blue or pink food colouring.
To make the buttercream mix the icing sugar and room temperature butter together (so much easier in a food processor). Fill the piping bag with buttercream and twist the top to avoid the contents spilling out. Fill the cupcake cavities and after putting the plugs back on top, pipe a circular frosting top on the cupcake to hide the cut lines.
How to Serve Your Gender Reveal Cupcakes
To make an impact, perfect for photo opportunities, display your gender reveal cupcakes on a cake stand with backdrop. Adding garlands, flowers, balloons and lanterns as appropriate as they can help to make a focal point for your big announcement. If you're outside, decorating a tree can look striking, otherwise there are many different backdrop options to match your chosen theme.
If you've been asked to organise a friend or client's baby shower (or perhaps you are thinking of your own!), there are so many things you can do to personalise the event. And guests at a baby shower will expect cupcakes…who doesn't want a sweet sugar fix with a glass of bubbly?