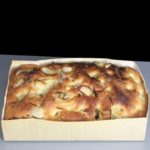 Our brand new Easy Bake and Take Tray is a fantastic product as it's a baking pan and product packaging all in one.
To use simply put your cake or bread mix directly into a lightly greased tray and bake, once baked remove from the over and leave to cool, once cooled they are ready to sell, either on their own or inside other packaging such as a polypropylene bag or outer box.
A perfect product for these new trays is Focaccia bread, we have given you the recipe for this below:
Garlic and Rosemary Focaccia Bread
This recipe makes enough dough to fill one of our trays.
Ingredients
500g strong white bread flour, plus extra for dusting
300ml water, at room temperature
1.5 x 7g sachets dried yeast
1 tablespoon of sugar
freshly ground black pepper and sea salt
splash of olive oil
half a garlic bulb
a sprig of rosemary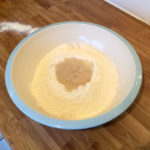 To make the dough tip the flour into a large bowl, pile it nice and high and make a well in the middle to hold all the other ingredients. Pour half the water into the well then tip in the sachets of yeast, the tablespoon of sugar and half a tablespoon of sea salt. Use a fork to gradually bring in the flour from the outside, once you get a stodgy, consistency in the well, add the rest of the water and gradually incorporate the rest of the flour to make a smooth dough.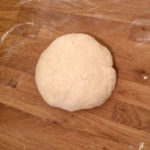 To knead your dough dust a clean work surface and your hands with flour, then knead the dough for about 5 minutes until it becomes silky and elastic. Make the dough into a flat round ball and place into a floured bowl, cover the bowl with a moist tea towel and leave in a warm place to prove for around 1 hour.
Once the bread has about doubled in size knock the air out of your bread using your fist then lightly flour your surface and knead again for another 5 minutes or until smooth. Lightly grease the Bake and Take Tray with olive oil and dust it lightly with flour, stretch the dough out until it's the right size for the baking tin and put it in the tray, lightly pushing the dough into the corners.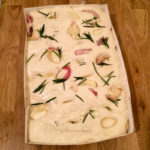 Now break apart half a garlic clove (don't worry about the skins) and squash with the back of a knife, pick off the leaves off your sprig of rosemary and add to your garlic. Drizzle over the olive oil, season with salt and pepper and mix together by hand. Scatter over the top of the dough using your finger tips to push the mixture in and give the surface a rough texture. Cover again with a moist tea towel and leave to prove for a further hour. Preheat your oven to 220ºC/425ºF/gas 7.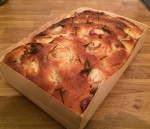 After the dough has proved for the second time poke the bread again with your fingers to give it a dimpled surface, sprinkle with a pinch of salt and pepper and bake in the hot oven for 20 to 25 minutes, or until golden with a crunchy surface. Remove from the oven and give it a tap, if it sounds hollow then it's cooked and leave to cool.
That's it, your product is ready to sell (or eat). Why not pop it into one of our 250 x 350mm perforated polypropylene bags and use a custom printed label to tell everyone what it is.