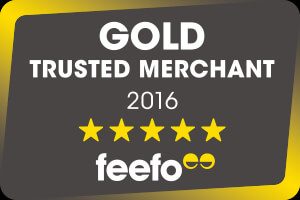 Our main objective as a customer focused business is to supply quality food packaging, plastic glasses and other similar products from stock in our warehouse for quick, safe delivery to our customers.  To help keep us on our toes and constantly improve our service, we always like to receive customer feedback.
Since 2014, we have used the feefo independent feedback service to provide us with ratings on both our service and product lines.  This helps assist us as a company to find out about where we can improve our services from order taking, stock profiles, wrapping the package to the couriers that we use to deliver.  The system is straightforward with our customers being sent an email request for feedback after the sales has been completed and reviews instantly published.  The product reviews are published on our web site, so where a customer has previously reviewed a product, another browser can read the review and glean further independent information for their purchase.


We are delighted that we are currently rated at 99% for service and 98% for our products, and this has been fairly consistent since we launched the FEEFO rankings. The graphic to the left will show the current rating (depending on when you read this blog post!).
The system has been useful for feedback on areas where we can improve and we have tweaked a few things which customers have highlighted such as:
Introducing more delivery options / bands
Clearer marking of the 'next working day' option ie not on a Saturday unless specified
More packing materials around some goods
We are delighted that we are currently rated so highly and to have achieved Gold Trusted Merchant from feefo. This award was made to just 1167 merchants, which feefo describe on their website as  "a business is required to receive 100 replies or more, with an average Service Rating of between 95% and 100%".  Whilst we are delighted with last year's performance, we will constantly strive to maintain and improve our service and product offering.