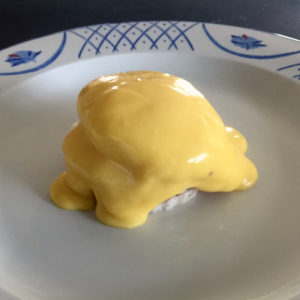 An early breakfast treat for two on Mother's Day was eggs benedict with a twist of Halloumi instead of the more usual ham or salmon (there wasn't any in the fridge!).
To start with, using cutters, we crinkle cut out two circular pieces of Halloumi and started frying them on a moderate heat until brown (around 10 minutes)
We separated two eggs, with the yokes being used for the hollandaise sauce and the egg white being put to one side (see point 11)
Whisk in a tablespoon of lemon juice and a teaspoon of mustard with the egg yolks
Place the mixture in a saucepan of simmering water
Melt 100g of butter and mix it in gradually with the sauce
At the same time as whisking, put some vinegar into boiling water, swirl the water and gently drop the eggs into the water for 3-4 minutes until cooked
Toast some bread or prepare other bread and cut out, again to size
Put the halloumi between or on top of the pieces of toast
Place the egg on top and carefully pour on the hollondaise sauce
Devour
If you are wondering what to do with the egg whites, whisk them gently, gradually add 60g of caster sugar until stiff and then fold in another 60g of icing sugar and cook at 100°C for 90 minutes or until brown. Smash up and mix with cream and fruit!