Just a quick heads up regarding Easter – is it me, or has it just suddenly appeared? So much of life is different right now, but we're still open to serve our customers as best we can. 🙂 Easter means that we are closed for a little longer than a normal weekend, so it's worth taking note of our opening hours. (What's normal these days anyway?)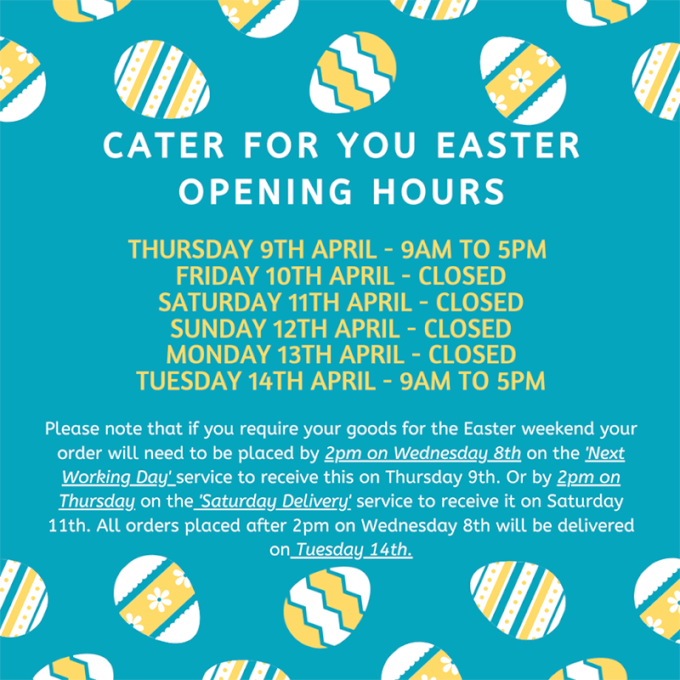 Deliveries
Our strong recommendation is to opt for the Next Day Courier Service. This is delivered by DPD / DPD local. This is our priority service. If you prefer a DHL delivery, then opt for Standard Courier option. We have noticed some of DHL's delivery windows lengthening while they prioritise their deliveries, which has caused some issues with customers in urgent need of food packaging. Please keep an eye out for courier emails, and if something looks like it's going wrong with the delivery, CALL US. Understandably, courier companies are cautious when it comes to delivering to food establishments (wrongly believing that they are shut) so we are fighting your corner as some of you are very busy! More info here.
Stock Levels
Certain product lines flew out of our warehouse doors in the blink of an eye last week. It caught us and our suppliers out. Thankfully, we can see stock levels returning to something like normal in the coming days and weeks. Please drop us a line, and we will try and give you a realistic timeframe.
Out of stock items
Certain items are impossible to get hold of right now. There are no re-stock dates for the following lines:
Disposable Aprons
Gloves
Carex Liquid Hand Soap
Supplier issues
Some suppliers are now working shorter hours, so aren't as reactive as usual. This has led to longer delivery timeframes. We can normally predict when new stock will arrive, but over the last 2 weeks, it's not been so easy. We're getting our heads around it, and so this is a big thank you to you all for your continued business, patience and support.
Stay safe 🙂
Kate