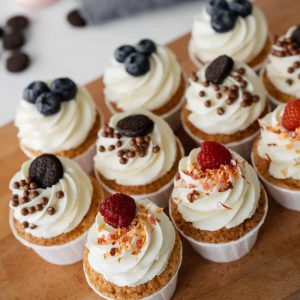 Cupcakes can look and taste fantastic. Once you've lovingly crafted and decorated them, you'll want to ensure they don't go to waste.
The fridge is usually our first port of call when we're thinking about keeping food fresh. Cake is a bit different and it's sometimes difficult to know how to store it. So where exactly do cupcakes go when you've managed to put them down?
Do Cupcakes Need To Be Refrigerated?
It all depends what you have topped the cupcake with.
Cupcakes with buttercream frosting are immensely popular right now. Some weddings even feature buttercream cupcakes instead of a large, traditional wedding cake. Children's parties are another event where cupcakes are usually invited because there are endless ways to make child-friendly cupcakes (link to new 10 children's cupcake ideas blog).
The good news for such events is that buttercream cupcakes can stay out at room temperature for two days. You should only turn to the fridge if you've used frosting with dairy or eggs, and this is for food safety reasons.
In fact, it's actually not a good idea to refrigerate frosted cupcakes.
Why? Well the fridge can speed up the crystallisation of the flour and sugar, quickly resulting in the cupcakes going stale. Left out of the fridge, however, frosted cupcakes will take longer to dry out since the frosting prevents cool air getting to the cupcake's surface.
Frosted or plain, any kind of cupcake is better kept out of the fridge. The cooling mechanism of the fridge removes all moisture or water vapour from a cupcake, leading to dried-out cupcakes.
Freezers, on the other hand, will maintain that lovely moisture and your cupcakes will also last for around three months if you freeze them.
How To Refrigerate Cupcakes
Sometimes, you'll need to get those tasty cupcakes stowed away in a fridge. If they contain any dairy or egg products, they'll definitely need a spot in the fridge. Or perhaps you're worried that the frosting will melt in hot weather.
Whatever the reason, storing any kind of cupcake in the fridge overnight won't cause them too much damage. Just make sure you do it properly.

First things first: let the cupcakes cool to room temperature. That way they won't heat up other food in the fridge and lead them to spoil. Plus, rapid cooling of cupcakes can also cause them to shrink and pull away from their liners.
Once they've cooled down, transfer them to an airtight container. Not only will this keep the moisture in, but it'll also stop them smelling like fish, cheese or whatever else you might have in the fridge. Just make sure the container is large enough to avoid any cupcakes squishing together and ruining the look you've perfected.
So if you take a little care, you can store cupcakes in the fridge, with frosting and all. If they're set to star at an event, you'll just need some attractive – yet practical – cupcake boxes for transporting them when their stay in the fridge has come to an end.
How Long Can Cupcakes Be Kept In The Fridge?
Placing cupcakes in the fridge might not always be ideal, but it's no great crime either. So how long can cupcakes last in the fridge?
As we've said, frosted cupcakes are better out of the fridge altogether, but if they find their way in there, they'll be fine for a couple of days. And that two-day rule also applies if you've included cheese or fruit. Plain cupcakes last longer in the fridge – up to four days.
Of course, whatever recipe you've chosen, the sooner you eat them the better. If you don't devour them all as they leave the oven, the first 24 hours is the best time to enjoy that fluffy goodness.
Can Cupcakes Be Stored At Room Temperature?
Keeping them at room temperature is usually the best option. You just need to make sure you have an airtight container to hand – one that's large enough to rule out any squishing.
Don't get hasty and pile them straight in. Let them breathe on a wire rack until they've cooled down. This makes sure there's no steam in the container to make them soggy or cause the cases to peel away (here are some tips on preventing cupcake case peeling).
Once they're safely cooled, press that lid firmly down. If you've whipped up frosted cupcakes, they'll last for at least two days. Plain cupcakes will stay fresh for even longer: three to four days.
Of course, cupcakes – and all manner of cakes – are best eaten fresh. But if you're saving some, most cupcakes keep best at room temperature. Even frosted ones last for a couple of days if placed in an airtight container.
The freezer is actually a better option than the fridge if you're looking to keep those yummy cupcakes going as long as possible. The fridge takes a bit of moisture out them, so the only cupcakes that need to be refrigerated are those with dairy or eggs.