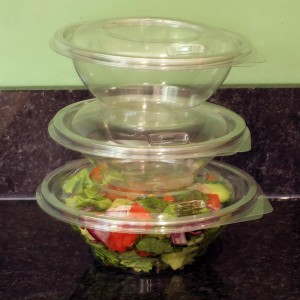 We have introduced a new range of Salad Bowls to replace our Virtuweld Salad Bowls.  The new products are from leading UK manufacturer Anson Packaging and are the ContourTM range which offer a superior quality, crisp design and clarity of food product for our customer's shelf.  The products have neat design touches which we've been impressed with such as:
Over lapping flaps to enable simple customer opening of the product
Ridges in the base and top for stable stacking in your shop display / fridges
Manufactured from clear PET which is recyclable
Hinged design
Handy enclave for a customer plastic spork or fork – we have added in the buy on-line related items of each product which one is suitable
Range of sizes as before:
We have been assured that these bowls (unlike the previous ones) are always held in stock by Anson and as they are produced in the UK available on a short lead time for much larger orders – we will of course be holding good stocks in our own new warehouse for existing customers who require next working day delivery.
Here is a video we made (at home hence no disposable gloves etc!) of how this salad bowl works:
Here are a few more photos too: