Were getting on board…
The humble chopping board is a recognised piece of kit in kitchens worldwide – from simple al fresco stones to highly polished colour coordinated marble blocks, they all share one fundamental job. You cut stuff on them.  So in true "cutting edge" style, Cater For You now stock plastic chopping boards. We've opted for plastic as they are universally recognisable, easy to keep maintain and relatively cheap to buy.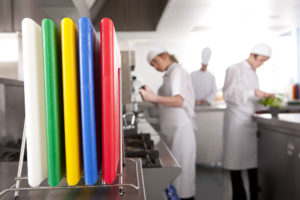 Why plastic?
Key to a chopping board is keeping it free from bacteria wherever possible. We love the plastic boards as they are easily cleaned in a household dishwasher. The high temperature and cleaning fluids kills off lingering bacteria – something you can't really do with your favourite wooden board. All those knife cuts serve as very handy bacteria / food traps – unless you season your board from its first use, it will become porous and absorb those potentially deadly germs. Marble boards have an exceptionally hard surface, although its likely to blunt your favourite knife if used frequently.
All the colours…
…help you keep different food groups apart – essential in reducing the risk of cross contamination amongst things like raw meat due to be cooked, and bread which will be served just as it is. No doubt you will should be in contact with your local Environmental Health Authority as they will be able to advise you on all kitchen related matters.
Recognised colours and their uses:
Red – Raw Meat
Blue – Raw Fish
Yellow – Cooked Meats
Green – Salads & Fruits
Brown – Vegetables
White – Dairy Products
A new board on the block (so to speak) is purple, and is specifically for use with allergen sensitive meals. This ensures that your meals are 'free from' all the allergens in your kitchen.
Our boards measure 400mm x 300mm x 4mm and all have a handle for easy storage. They are manufactured from Polypropylene and have a groove to catch juices. Spilled something? Mop up with one of our large range of cleaning cloths.
Order your boards here!