There is no denying that the humble chip is a thing of versatile beauty. Who knew a bowl of 9/16th's could soak up so much alcohol?) With the Euro's in full swing now, you may find the herd demanding a portion of your finest fries all at once, and no one will have pre-ordered either. You may be that lucky venue with a massive kitchen and a fleet of double fryers waiting to go, but equally, you could have a single counter top fryer, hungry locals and 3 TV screens playing every possible game going.
Chips make money as the GP is good, they are quick n easy to cook and everyone loves them. It's worth promoting them on big nights for this alone. (Salty snacks make for a thirsty drinker who is likely to order another drink, but I never told you that) How do you stop that inevitable bottleneck at half time? Cooking even 10 portions at once can be an issue in that little fryer; before you know it, the oil temperature has plunged seconds after you've dropped the second pair of baskets, and you'll be forever playing catch up. No one likes a soggy saturated chip do they? What about the fish? When do you fry that? Arrrrgghhhhheeelllpppppp……
Ok. What about pre-cooking batches of chips, holding them in the oven for about 15 mins at 150 degrees? They will quite happily sit there so you can cook off more while waiting for the inevitable stampede. Much less stressful as the kitchen is in control – it's the engine room after all. Our Taste range of Food Containers and Trays are all oven safe, so you could pre-load the chips in the trays and let them hold in the oven until needed. The Taste range can go to 200 degrees for up to an hour, so are incredibly versatile. Alright, you will pay a little for the privilege but the time saved by being ahead of the game on the night and not having yelling matches with front of house at key pressure points has to be worth considering. (Some call that a sport in itself; we don't judge)
The Small Rectangular Tray plus a 2oz Paper Sauce Pot will cost you about 16p +VAT and would be big enough to hold a small portion of chips. Add a Chip Fork and Napkin as is your want and you're good to go. Washing up is pretty easy as there isn't any, so why not give the potwash the night off to watch the match? (Nahhh!)
This may be old news for 99% of you, but there will be that one chef thrown in at the deep end who may just benefit from a fresh look at an age old problem of simple logistics. The other alternatives include blagging it, winging it, or service going horribly wrong with all of you having a truly horrific night, Can't help with the kitchen / front of house scraps, that's part & parcel of the job!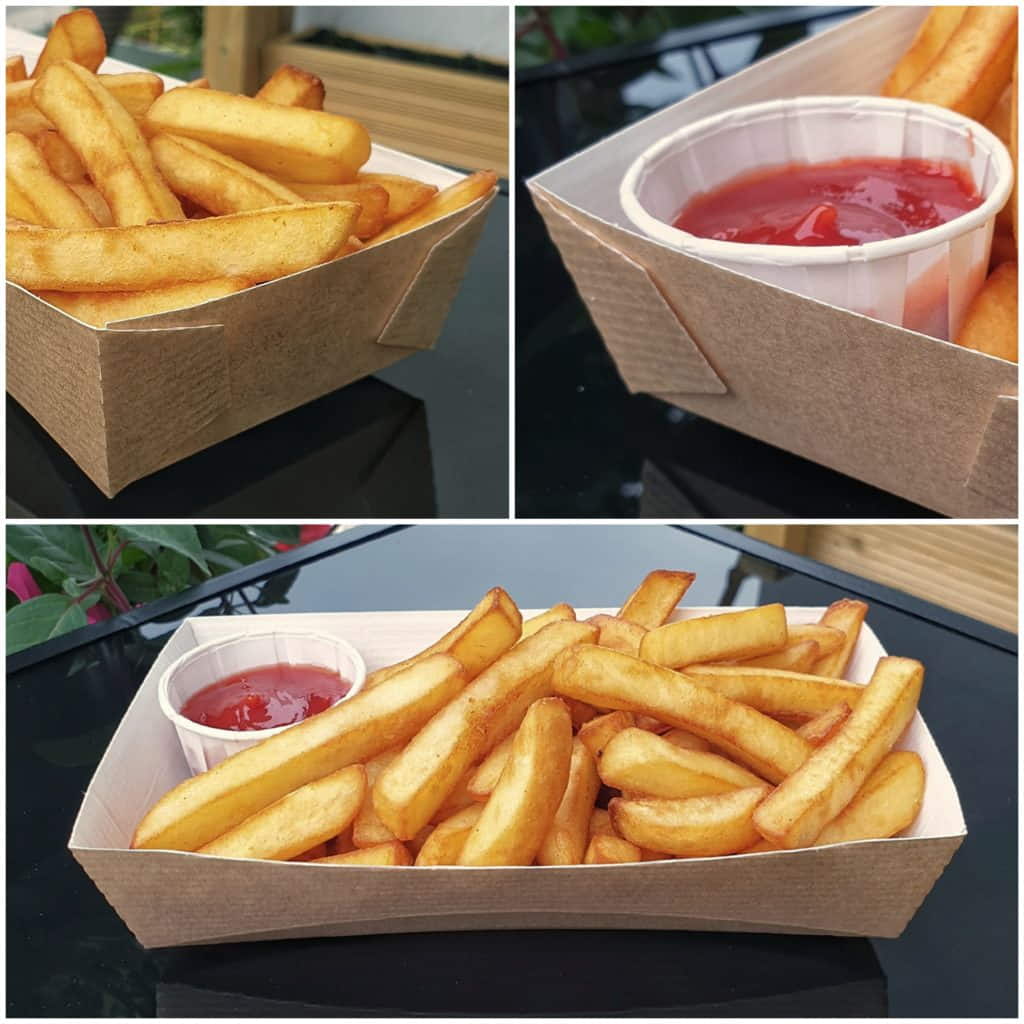 The same number of chips are also in our 24oz Coupe Bowl (below) These bowls have a larger surface area, so would be well suited to meals – Chicken, Scampi & Salad etc. These bowls are Biodegradable, Compostable, greaseproof and strong (no doubling up required with these bad boys) Perfect for home BBQ's and garden parties, lids are also available for the larger bowls too and there are a number of shapes and sizes available here.