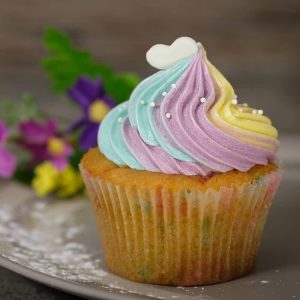 Cupcakes are a fantastic way to get children baking because they are so simple to make. You just mix everything together in a bowl and pop into cupcake cases to bake. There are also plenty of chances to get children to weigh ingredients out, measure, count, stir and the favourite… crack eggs! Then they get to unleash their creativity in cupcake decorating (we know it's challenging, but try to reign in your inner master chef…)
10 Cupcake Ideas For Children
Butterfly Cupcakes
Butterflies will always captivate children. Children love learning about them, drawing them and watching them, so they make an ideal focal point. You can use a butterfly cutter set for this recipe which is especially designed to be safe for little fingers.
If you'd rather buy the fondant there are different pre-made fondants you can find in the supermarket. Otherwise, simply make the fondant with icing sugar, water and food colouring. We think coloured fondant butterflies on top of plain buttercream are striking. Cut the fondant butterfly shapes, and then dab a small amount of water onto the back of the butterfly to stick them onto the top of the buttercream.
Fairy Cakes
A British school bake sale staple! We just had to include some retro British fairy cakes on the list even though, strictly, they aren't cupcakes. Cupcakes are larger with a generous amount of frosting on top. Fairy cakes are smaller and therefore use smaller cases. But they are so easy for children to make. The icing is simply a drizzle of icing sugar mixed with water and the kids can sprinkle hundreds and thousands on top while the icing is gooey to their heart's content. The icing gently sets on top so you get that lovely crackle effect across the icing surface when you bite into them. Pure nostalgia.
Unicorn Cupcakes
Some children are into unicorn everything and why not? It's impossible not to smile when you see a rainbow-swirled unicorn cupcake. Make up a batch of basic vanilla cupcakes and then once they have cooled use a cocktail stick to poke a few tiny holes in to drizzle some 'magical' syrup in. Use food colouring to dye different bowls of buttercream: pale pink, pale blue and pale green. Add them all to a piping bag with a large star nozzle and the kids will be thrilled to see the colours blend as you pipe the frosting onto your cupcakes. And as these are unicorn cupcakes, you'll need to finish with generous shakes of magical unicorn sprinkles.
Easy Vanilla Cupcakes
Vanilla sponge with vanilla frosting is the easiest cupcake to make. It's also a really safe bet with kids who are fussy eaters. Springy golden sponge is topped with a big dollop of sweet vanilla buttercream that'll go down well at any birthday party or school bake sale. You can top them however you like; raspberries and strawberries are pretty, or perhaps drizzle over some chocolate or caramel sauce. Our three top tips for a springy vanilla sponge:
Use butter softened at room temperature (if like us, you forget to take it out of the fridge, pop the butter in the microwave for a few seconds)
Mix the butter and sugar together for at least three minutes in a food processor
Cool the cupcakes on a wire rack — don't leave them to continue baking outside the oven in a hot tray
Chocolate Hedgehog Cupcakes
When you're baking with children it helps to have something to make that's cute and engaging…plus chocolate always goes down well! Chocolate hedgehog cupcakes have a chocolate icing swirl on top, created using a piping bag. Kids will have fun helping you to fill up the piping bag and squeeze the icing. To create the hedgehogs simply chop up Cadbury's Flake bars and stick them into the icing for the hedgehog spikes. Add Malteser for the nose and edible eyes (available in most big supermarkets). We think there will be a fair amount of chocolate eating while you create these cute little hogs!
Rainbow Cupcakes
Rainbow cupcakes are so bright; the perfect addition to a kid's party or simply to cheer up a rainy day! To make the coloured sponge you simply divide the cake mix into five bowls and mix it with different food colourings: red, yellow, green, blue and purple. Then spoon each colour into coloured cupcake cases, starting with purple at the bottom and bake as usual. Believe us, the rainbow sponge is worth all the extra washing up!
Marshmallow Sheep
Making novelty cupcakes are sure to engage kids and make them laugh. Plus we are sure the kid's beady eyes will spot the mini marshmallows needed for these marshmallow sheep! These cupcakes are simply topped with black fondant icing (either shop-bought or homemade) with mini white marshmallows for the wool. For the nose, you can use a heart-shaped pink sprinkle and the ready-made icing eyes can be purchased from a supermarket. The ears and tail can be added by shaping the black fondant icing.
Confetti Cupcakes
We know that kids love sprinkles! And rainbow sprinkles don't have to be limited to the top of the cupcake. Combine some sprinkles with some flour to stop the sprinkles from all sinking to the bottom of the batter (approx 8 tbsps of sprinkles to 1 tbsp of flour). Simply add the sprinkles to the cake batter by gently folding them in. Then divide the batter into cupcake cases and bake as usual. When you bite into the sponge you'll be able to see the pretty rainbow-coloured sprinkle effect! An easy bake, perfect for children's birthday parties, why not pop some into cupcake boxes and gift these confetti treats to the guests?