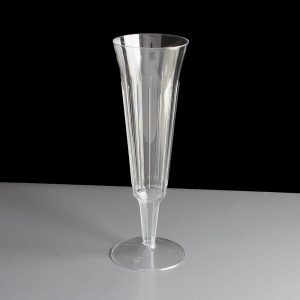 A glass of champagne to a customer is great. A glass of champagne to you is your product. It's how you make your money, so it has to look good as well being priced well.
Our C7025B disposable champagne glasses, with their crystal style design, were long over-due a revamp to enhance their look and feel.
Please welcome the new and improved C7025A Disposable Plastic Champagne Glass.
These are perfect for events such as weddings, parties and food festivals as they're lightweight, competitively priced and disposable which means no washing up at the end of a long day. They have a capacity to the rim of 130ml which is great for handing out tasters at events, too.