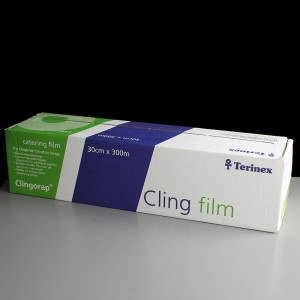 Keeping food fresh and way from other contaminants is a constant struggle for caterers, but cling film / plastic food wrap is a key tool for the kitchen. In our catering disposables section on our web site, we sell a range of aluminium foil and cling film suitable for use by a range of chefs and kitchens:
The 'cutterbox' contains a roll of PVC catering cling film which has a wipe clean box and integral plastic serrated cutter blade. The roll is wrapped around a cardboard tube which is set into the box which helps with the smooth release when pulled out of the serrated hole. The pads on the bottom of the box also minimises the amount of movement when the film is being pulled and wrapped around your food.
Terinex state that the PVC cling film is very low migration (VLM) which conforms to Directive 2002 / 72 / EC and it is a permeable film, tinged pink in colour, which allows food to breathe. It can be used in microwave ovens (though not when in direct contact with the food) but not in use in conventional ovens in any form.
The clingfilm is suitable for contact with all foodstuffs except pure fats or oils and foods preserved in an oily based medium.
Needless to say, for safety, please keep away from babies and small children.
Catering Cling Film Video
Below is a short video on some of the features of the Terinex Clingorap cling film in their cutterbox.

Cling Film Photos
Apologies for using a much used box to show the inside and serrated cutter.