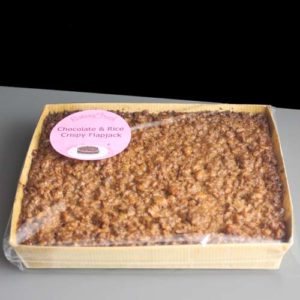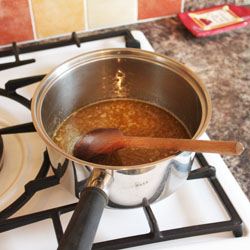 What do you get if you cross a bowl of rice crispies, a bar of chocolate and a flap jack? You get something very tasty – Cater For You's Rice Crispy Chocolate Flap Jacks.
Ingredients
225g / 8oz – soft brown sugar
225g / 8oz – butter
2 tbsp – golden syrup
250g / 12oz – whole oats
150g / 5oz – Rice Crispies
110g / 4oz – chocolate chips
Food Packaging
Preparation method
Preheat the oven to 150C/300F/Gas 2.
Place the sugar, butter and golden syrup together in a saucepan and heat gently until the butter has melted, stirring occasionally. Take the saucepan off the heat and stir in the oats, rice crispies and chocolate chips, mixing thoroughly.
Pour the mixture into the two lightly greased Easy Bake and Take Tray Bake and press it out evenly using the back of a wooden spoon. Bake in the center of the oven for 40-50 minutes.
Allow the mixture to cool in the tray bakes before placing into the 200 x 250mm plain polypropylene bags and sealing with a heat sealer. These bags can be sealed with tape however the shelf life will not be as long.
Print on label using any A4 printer, stick on product, place on shelf and sell.