Welcome to our weekly catch up, where we aim to bring you up to date with all going ons this week within our company and our industry.
Football Crazy
With the world cup now a distant memory its time to get back into the swing of things with league football! With thousands of football fans expected to pass through the turnstiles over the next couple of weeks its important that you are prepared to cater for their food and drink needs!
Thirsty work:
Supporting your local football team can be thirsty work, especially in this weather! We currently have lots of disposable pint glasses in stock perfect for a stadium setting.
New Range:
Our updated range of black Take Away Food Trays are ideal for catering inside and outside of stadiums of all sizes. The full range that we have available have been recently modified by the manufacturer, so the dimensions differ slightly from the old style that we used to stock. This modification has also seen an increase to the range, meaning a couple of new food trays and burger box styles are now available.
New Season Promotion:
As the new season kicks off, Tom Payne our dedicated Football Account Manager, is running a promotion offering all football clubs 5% off any of their orders! For more info or to obtain the promo code please contact Tom by emailing [email protected] or giving our office a call on 01494 511 950

Are You A Fantasy Football Player?
Here at Cater For You we have created a fantasy league for all of our loyal customers (and staff) to show off their managerial skills and football know-how! If you think you've got what it takes to top the league why not join our league? It's free to play and prizes will be up for grabs as the season progresses.
Where to sign up: https://fantasy.premierleague.com/
League Name: Cater 4-4-2
League Code: 350238-367616
Ingredients Bins
Best of luck to one of our new customers 'Happy Planet Green Store' from Narberth, a company focused on retailing recycled and compostable household items. They have recently set up their new store and purchased our ingredients bins to display some of their product. The store is looking great guys, we hope it all goes well!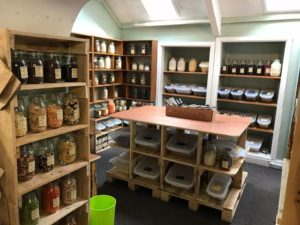 Our full range of food storage/ingredients bins can be view online and are available to purchase individually in a selection of styles and sizes.
That's all for this week but remember all of our catering disposables can be ordered online at any time, including a large range of biodegradable products.