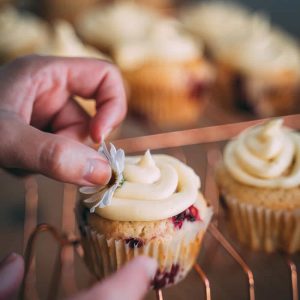 Freezing cupcakes is something you might not have considered until you need to batch bake for an event. But it also makes sense to freeze cupcakes individually if you aren't able to eat them quickly to prevent wastage. And icing cupcakes is a fun activity, whether at home or professionally, with children or students, it's handy to have a batch of plain cupcakes that are quick to defrost and ready to add decorations.
Can you freeze cupcakes?
Yes you can freeze cupcakes successfully, and if you store them properly, they'll taste freshly baked when you defrost them. A fridge can dry cupcakes out, but a freezer will keep them moist. Freezing cupcakes works brilliantly as a time saver if you're a caterer batch baking for an event or if you're simply saving leftover cakes. And you won't be able to tell they were ever frozen if you stick to our guide below.
How to freeze cupcakes
To freeze homemade or shop-bought unfrosted cupcakes without compromising on quality, follow our steps:
Step 1: If you've just baked the cupcakes, let them cool completely on a wire rack before you put them in the freezer. Condensation causes ice to form on the cakes which results in a wet cupcake when you defrost it.
Step 2: Wrap each cupcake in clingfilm to prevent them from tasting like the freezer (you know that odd musty, icy taste…)
Step 3: Then wrap each cupcake in foil to prevent freezer burn.
Step 4: To store the cupcakes neatly, put them individually wrapped into a cupcake box with a window so you can see what it contains and place it in the freezer in a space where they won't be squashed (even when frozen, cupcakes aren't 100% solid and can still be squashed). A heavy duty cupcake box will be extra secure. If you have multiple types of cupcakes in the freezer, labelling the box may save time and frustration further down the line!
How to freeze cupcakes with frosting
Many people prefer to freeze plain cupcakes without icing them first, as it's easier to keep the frosting looking perfect if they are freshly iced. But if you have leftover frosted cupcakes here's how to freeze them successfully:
Step 1: The secret to freezing a cupcake topped with a swirl of frosting? Pre-freeze the cupcakes. Pop the frosted cupcakes on a plate, uncovered, and place them into the freezer for an hour so that the frosting has frozen solid.
Step 2: Then they are ready to individually wrap and then store in a tamper-proof container suitable for freezing. Individually wrap the cupcakes as you would the plain cupcakes as this preserves the texture and flavour.
Step 3: When the frozen frosted cupcakes are ready to be eaten, defrost them by very carefully unwrapping the cupcakes and bring them to room temperature. If the frosting has become unstuck from the sponge as it defrosts, gently push it back into place with a butter knife.
How to defrost cupcakes
Although cupcakes should keep well in a freezer for up to six months, using them earlier will ensure that the quality is good. When you remove them from the freezer carefully pull away the plastic wrap as you don't want them to get sticky when they are defrosting (it's particularly important to leave them uncovered as they defrost if they are frosted so that you don't lose any of the icing on the freezer wrapping).
Place the frozen cupcakes on a plate on the counter for one or two hours. If you're frosting them, ensure that they are room temperature and fully defrosted before you start. Don't place them into an airtight container until they have been thoroughly defrosted.
Many people are surprised that you can freeze cupcakes, but they'll taste 'as fresh as the day they were made' after defrosting. Freezing cupcakes is a great hack to be able to save time before an event. And if you have a random cupcake craving (we aren't here to judge) you can defrost one of two individually wrapped cupcakes within 20 minutes.