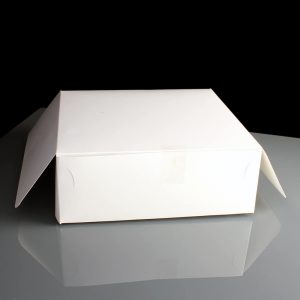 Since 2008 we have been stocking and supplying a wide range of cake boxes suitable for a whole range of bakery products.
This morning, as it was a Friday (though any day of the week will do!), we bought some delicious doughnuts from the local village bakery in Chalfont St Giles and noticed they had packaged them up in a standard 8″ x 8″ x 3″ cardboard cake box. We noticed (as per photo) that they had sellotaped the box down instead of folding it into the cut outs, presumably as that is much quicker and less fiddly than tucking them into the provided cut outs.
Curious though, we retrieved another cake box from our samples section and, after some fiddling, decided we had created the perfectly constructed cake box with no flaps or sellotape. However, we could see why for speed tape is used! These cake boxes come flat packed to be constructed by the counter assistants and provide the best value for money. They are straightforward to prepare for the customer in a busy shop counter environment, however, if speed is your thing, then the quick service cake boxes may be more suitable.
If you would like more information, please do not hesitate to contact us.