A massive thanks goes out to Jan from Cuppy Cakes who bought in some of her latest cupcakes to sample in the office at Cater For You. The amazing bouquet of cupcake flowers would be perfect as a wedding table centrepiece as they look wonderful and as everyone in the office here would agree, taste delicious.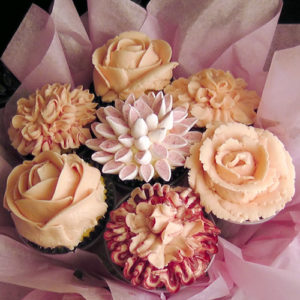 The cupcake flowers were made by baking a standard cupcake in our E906 – Black Cupcake Cases and then once cooled piping the butter icing on using our 18″ Savoy Piping Bag and number 104 Petal Decorating Tip. For the larger flowers a small marshmallow was placed on the un-decorated cupcake and then the butter icing was piped over the top to help give the flower its height.
Once finished the cupcakes were placed on one of our 8″ round cake drums and finished with ribbon and tissue paper.
Jan from Cuppy Cakes can be found by searching for "Cuppy Cakes" on Facebook, she is the one based in High Wycombe, Bucks.