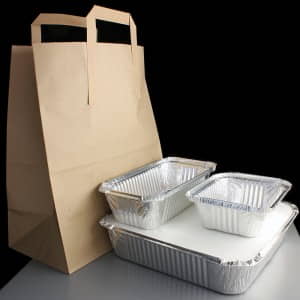 The very popular range of take away containers that we bring in by the pallet load are aluminium foil take away containers. They have been the staple packaging of take away establishments in the UK for decades because they have excellent heat retention properties and can also be used in the oven (definitely not microwave oven) to keep food warm or to re-heat. Despite not being leak proof, they are simple to stack inside a take away bag and spillage is normally minimal (assuming they aren't left upside down or on their side of course).
The foil lids (that are purchased separately) are simple to attach to the foil container and seal in a hurry in a busy kitchen and have some degree of resistance to leaking. The lids also make them simple and safe to stack in a take away carry bag (see photos below for example of leaking and stacking).
For the purposes of research (!), we ordered a take away curry from our local restaurant to show the product in the packaging and how it looks on arrival and presentation of food. We think that the aluminium packaging looks higher quality than the plastic take away containers, but that is just personal preference.
As can be seen from the photos below, despite the containers being kept upright, there was some minimal leakage around the edges, but the delivered food wasn't impaired at all. The food can be seen in the No. 6a container and No 2 container for rice. We didn't order a starter which is normally in a No 1 foil tray.
Also seen in the photo gallery below is a aluminium foil lined take away bag which our delicious nan bread arrived in. However, the only downside of using this product is that the heat and steam coming off the product when it is put in makes it lose some of its freshness and becomes rather doughy – a quick blast in the oven or warming drawer soon sorts this out but a better product for Naan bread is our Naan bread bag. The bag is designed to be breathable like our perforated polypropylene bags as they also have a perforated strip at the front to allow steam to escape thus minimising the 'sweating' that happened with the bags below. The bags can also be micro waved or reheated up to 80°C in an oven.