Plastic Wine Glasses
The range of plastic wine glasses suitable for outdoor events and where use of normal wine glasses isn't suitable has improved considerably in terms of styles, finishes and types of plastics used.

Over the past few years manufacturers of plastic wine glasses now produced in all shapes and sizes and are of a far superior quality than in days gone by. So now if you order a glass of wine at an event or venue where glass is not permitted, chances are your drink will arrive in a more elegant and suitable plastic wine glass.

Below we have outlined the various options available to you along with their advantages and disadvantages to help you decide which plastic wine glasses are right for you.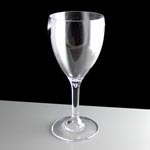 Virtually Unbreakable Polycarbonate Plastic Wine Glasses
Polycarbonate wine glasses represent the ultimate in quality and are the closest to glass wine glasses in weight and feel. Made from the same material as crash helmets, Polycarbonate plastic won't shatter if dropped so are perfect around the pool/patio. They can be reused up to 500 times before showing any signs of wear and tear. They are available with measure lines at 175ml and 250ml, making them perfect for use in pubs, bars and nightclubs.
Click here to buy our
Unbreakable Plastic Wine Glasses
now.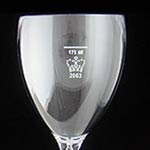 125ml, 175ml, 250ml & CE Stamps?
If you are a licensed establishment serving wine and you are not measuring the wine out before pouring it into the glass then you will need lined plastic glasses that are CE Marked.

A small glass of wine is a 125ml measure
A standard glass of wine in most pubs if a 175ml measure
A large glass of wine is a 250ml measure

We stock plastic wine glasses with one, two or all three of these measure lines to suite whatever size of glass you are wanting to serve, all these glasses are CE Stamped.
Reusable Plastic Wine Glasses
Reusable polystyrene wine glasses are not as strong or heavy as Polycarbonate but they are just as clear. They may crack or break if dropped, but can be re-used up to 100 times before showing any signs of wear and tear. Two glasses are CE stamped, one at 125ml and one at 175ml, both of which are ideal for bar and outside functions. There are also non CE stamped glasses in the range, where exact measurements aren't the priority.
Click here to buy our
Reusable Plastic Wine Glasses
now.
Disposable Plastic Wine Glasses
We also stock single use disposable polystyrene wine glasses, perfect for large events right down to the one off party or BBQ. Inexpensive, these stemmed glasses represent excellent value for money; use once and throw away, with no washing up afterwards. These glasses may crack if dropped. Our MG77 glass is CE marked at 125/175ml, helping to reduce serving time on busy nights. For the home user, our non-marked disposable wine glasses do the job perfectly - why risk your expensive glassware getting accidentally broken?
Click here to buy our
Disposable Plastic Wine Glasses
now.