Plastic Wine Glasses
The range of plastic wine glasses suitable for outdoor events and where use of normal wine glasses aren't suitable has improved considerably in terms of styles, finishes and types of plastics used.

Over the past few years, manufacturers of plastic wine glasses have produced a greater ranage of shapes and sizes and are of a far superior quality than in days gone by. So now if you order a glass of wine at an event or venue where glass is not permitted, chances are your drink will arrive in a more elegant and suitable plastic wine glass to consume from.

Below we have outlined the various options available to you along with their advantages and disadvantages to help you decide which plastic wine glasses are right for you.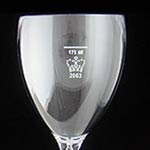 125ml, 175ml, 250ml & CE Stamps?
If you are a licensed establishment serving wine and you are not measuring the wine out before pouring it into the glass then you will need lined plastic glasses that are CE Marked.

- A small glass of wine is a 125ml measure
- A standard glass of wine in most pubs if a 175ml measure
- A large glass of wine is a 250ml measure

We stock plastic wine glasses with one, two or all three of these measure lines to suit whatever size of glass you are wanting to serve, all these glasses are CE Stamped.
Plastic Wine Glasses Compared
Below we have a taken a snapshot photo of our range of plastic wine glasses which tries to show the difference in sizes between them all. Photo correct as of March 2015.